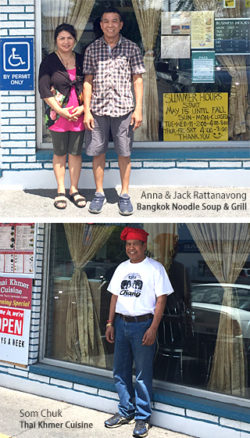 Two Unique Dining Experiences on Pitt Street North
June 27, 2017
Cornwall Ontario – The list of Cornwall's fantastic dining experiences continues to grow with the addition of two new authentic Thai style restaurants: Thai Khmer Cuisine and Bangkok Noodle Soup & Grill.
The restaurants are co-located in the same building at 1503 Pitt Street. Although they may share an address, the two restaurants have separate owners and offer different and unique dining experiences.
Bangkok Noodle Soup & Grill
Bangkok Noodle Soup & Grill is located on the left side of the building and focuses on authentic Thai noodle soups and grilled meats. Each dish is meticulously flavored with a savory mix of Thai style spices, under the watchful eyes of owners Anna and Jack Rattanavong.
"I'm looking to offer different kinds of dishes to the Cornwall area," says Anna.  "I focus on noodle soup from Thailand, but we also feature many dishes that cannot be found in regular Thai restaurants as they take a lot of time to prepare. Our Kow Mok Kai is a very popular dish in Thailand and we feature it here."
One of the reasons they chose Cornwall is that being in a smaller community, most locals have never experienced a different kind of cuisine. The Rattanavongs want local people to come into their restaurant and experience something completely new each time.
Thai Khmer Cuisine
To the right of the main entrance, Thai Khmer Cuisine differentiates itself from their next door neighbour by offering a unique take on Thai cuisine. The owners, Som and Jew Chuk, focus on not only Thai cuisine, but also on many Cambodian dishes.
"My wife is from Cambodia" says owner Don. "We focus on Cambodian classics on top of our traditional Thai dishes to offer a different experience to customers. The Amok Khmer is a classic Cambodian dish that we are bringing to the Cornwall area."
A Cambodian style restaurant is a first for the Cornwall area. This type of food uses an array of different spices, putting emphasis on flavourful curries. The Amok Khmer is a dish made with a red curry paste and coconut milk. The owners also hope to bring in a Thai buffet option on weekends.
The two restauranteurs said that they've always loved the sense of community in Cornwall, and that it was the perfect size for their business. The population and community make it possible to differentiate themselves and to build a strong base of returning customers.
More Info
In a few short few months,  Bangkok Noodle Soup & Grill and Thai Khmer Cuisine have become favorites among many people living in Cornwall.
Categorised in: Business