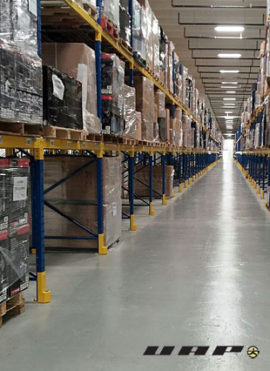 UAP To Open New Distribution Centre in Long Sault
September 3, 2013
Cornwall Ontario – UAP Inc. inaugurated today its new Logistics Centre in Long Sault, located just a few minutes west of Cornwall.
With a surface of 200,000 sq. ft., the new efficient and spacious non-application products logistics centre will hold more than 30,000 parts in stock, including chemical, accessories, hardware, tools and equipment as well as paint, body and equipment products.
"This new facility is a key component of a process aiming at improving our distribution operations in order to better serve our customers across the country", said Robert Hattem, President and Chief Executive Officer. "There will be more space to manage our tool, equipment and non-application product inventory and ensure rapid service to all of our distribution centres. We will also be able to broaden the range and number of available products and increase our inventory level."
"We welcome UAP to our community," said South Stormont Mayor Bryan McGillis. "The job creation and the dollars spent to retrofit the plant are impressive. This definitely is a positive economic benefit for the region. Thank you for coming to South Stormont."
The UAP Logistics Centre's location near Trans-Canada Highway 401 will allow UAP to meet the needs of its distribution centres and stores across the country more rapidly and efficiently. The centre, which will start its operations on September 9th, will create nearly 40 jobs. For links to some of these job opportunities, check out the Employment Opportunities page on this website.
"We are very pleased with the opening of this new Logistics Centre, which will contribute to strengthen our extensive distribution network and to reinforce our first-class quality service and our leading position in the marketplace," added Robert Hattem.
UAP is the latest in a string of companies to establish distribution centres in the Cornwall area. These include Target, Walmart and Shoppers Drug Mart, amongst others. For more information on the supply chain and logistics sector in Cornwall, check out the Logistics Brochure on the Resources Page.
About UAP
UAP Inc., a wholly owned subsidiary of Genuine Parts Company (GPC: NYSE), is a Canadian leader in the distribution and merchandising of automotive parts and replacement accessories for cars, trucks and heavy vehicles. UAP is known for its product excellence, first quality customer service and dynamism in every region of the country. UAP has over 3,600 employees and a store network covering all of Canada.
About South Stormont
South Stormont is one of six townships that make up the United Counties of SDG. With a population of 12,617, South Stormont is immediately adjacent (West and North) to Cornwall, and is comprised of rolling countryside and warm inviting villages such as Long Sault, Ingleside and St. Andrews.