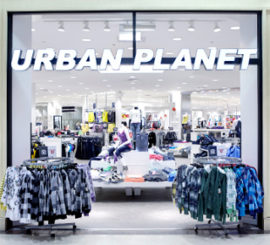 Urban Planet Holding Job Fair in Cornwall
September 24, 2013
Cornwall Ontario – Cornwall's newest retailer is preparing for an October launch and is currently recruiting to fill 50 positions.
Urban Planet is recruiting for several positions – from management to cashier positions – and is holding a job fair this week on the following days:
Thursday September 26 – 9:00am – 9:00pm
Friday September 27 – 9:00am – 9:00pm
Saturday September 28 – 9:00am – 5:00pm
The job fair location is in the Eastcourt Mall, across from Shoppers Drug Mart.
Urban Planet will be opening an exciting 30 000 sq.ft. new concept store that company officials say will be different than anything Cornwall shoppers have seen before.
"We are excited to launch the Urban Planet brand in Cornwall," said Natalie Seguin, District Manager of YM Inc., the parent company of Urban Planet. "We are looking forward to meeting people who want to help us continue the Urban Planet success story."
Urban Planet is looking to fill the following positions:
Manager
Department Manager
Assistant Manager
Shift leader
Head cashier
Cashier
Salesperson full time and part time
Stock manager
Part time stock
Urban Planet expects its Cornwall store will open by October 22nd. Of the 50 positions to be filled, between 10 and 15 will be full time employees.
About YM
Recognized by style-savvy shoppers as a fashion leader offering on-trend items at great value, YM Inc. has more than 650 stores nationwide under such brands as Stitches, Urban Planet, Sirens, Siblings, Suzy Shier, and Bluenotes.
About Eastcourt Mall
Eastcourt Mall is a commercial retail property located at 1380 Second Street East in the east end of Cornwall. It is owned and managed by RioCan, Canada's largest real estate investment trust. The Mall is currently undergoing a major redevelopment with new 4 new stores (Ardene, Dollarama, No Frills and Urban Planet) opening this fall.