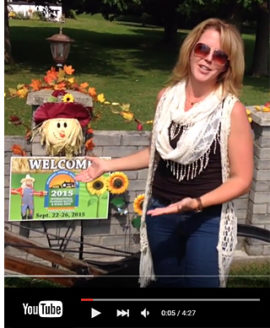 Video Series to Highlight 2015 Plowing Match
September 10, 2015
Cornwall Ontario – The International Plowing Match is just days away, and thousands of volunteers are hard at work at getting the massive 1000 acre site near Finch ready.
Local radio personalities Sue Stewart and Jimmy Kalaitzis took a drive up to the site recently, and put together a short video of the work in progress.
"Finch is my home town, and it is really cool to see how the Plowing Match is transforming the area," says Sue Stewart, Co-Host of Fresh Mornings on Fresh 104.5. "Finch will have a population of over 15,000 for a week, and that will be really exciting to see."
While filming the video, the radio team met up with Ron Reid, who is part of the team putting up dozens of tents. Mr. Reid was able to describe exactly what visitors can expect to find once the Plowing Match opens on September 22.
"I do not have rural background, but it is amazing how they are constructing a city in the middle of a farmer's field," says Jimmy Kalaitzis. "I can't wait to see it in operation!"
The Plowing Match will be comprised of a massive tented City with dozens of large tents and its own road and electrical network.  For 6 days, the Tented City will be home to over 600 exhibitors, and will feature daily entertainment and educational exhibits.  The tented city will be adjacent to an RV Park with a resident population of over 1500 people. The event is expected to attract over 75,000 people.
Series of Videos
The video is one of a series of three videos that Jimmy and Sue plan on releasing. Here are the links (so far)
"Creating the video was fun," says Mr. Kalaitzis.  "It has been a long time since I've done this type of work and I am really enjoying it."
Excitement is building for Plowing Match and people in Cornwall and Counties are getting ready to host thousands of visitors from Ontario, Quebec and New York State.
"People are getting in to the spirit of the event," notes Sue Stewart. "It's neat to see the beautiful welcoming displays of scarecrows and sunflowers that are cropping up throughout the region. "
About Fresh Mornings
Fresh Mornings with Jimmy and Sue can be heard weekdays from 6am to 9am on Fresh Radio 104.5. It is the top rated morning show in the region, and Jimmy and Sue will be broadcasting live from the Plowing Match during the week of September 22-26.
About the International Plowing Match & Rural Expo
The International Plowing Match and Rural Expo is a premier five-day event promoting agricultural and rural lifestyles. Each year, over the five days, more than 75,000 people attend to view education and commercial exhibits, and at the same time enjoy live music and local food vendors. The 2015 IPM will be held in Finch from September 22-26, from 8:30am – 5:00pm daily.
More info can be found online:
Related Articles