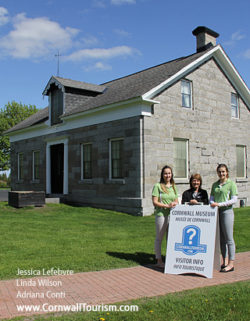 Visitor Information Centre Opens in Lamoureux Park
May 19, 2017
Cornwall Ontario – Visitors to Cornwall can now pick up travel guides and maps while touring Lamoureux Park.
The City of Cornwall has opened a new Visitor Information Centre in the Cornwall Community Museum. The Centre will be open 7 days a week over the spring and summer months and staffed with two tourism students.
"Many visitors naturally find themselves at Lamoureux Park and the Information Centre will provide a one-stop location to meet their needs," says Linda Wilson, Tourism Co-ordinator with the City of Cornwall. "We are also looking to greet cyclists who may be touring the Waterfront Trail."
Located along the shores of the St. Lawrence River, Lamoureux Park offers over 90 acres of parkland and amenities, including a bandshell, boat launch, splash pad, outdoor gym and play area. It is home to dozens of events, most notably Beerfest, Musicfest, Garlic Festival and the popular Arts in the Park series of outdoor concerts.
"Visitors are also looking to find out what is going on, and where they might explore," says Ms. Wilson. "There are so many things to do and see in the Park and downtown. The museum is an excellent place to start your adventure."
The Cornwall Community Museum is housed in a stone building originally built by the Wood Family, who were amongst the very first settlers in 1784. The building has acted as a museum for over 50 years and was moved to its current location in Lamoureux Park several years ago. The Museum is operated by the SDG Historical Society and has a number of exhibits related to Canada 150. The Museum is open from 10:00am to 4:00pm, Wednesday to Sunday, admission is free.
"We are delighted to have tourism staff join us at the museum," says Ian Bowering, Museum Curator. "It promises to be a very busy summer!"
WiFi Hotspot
A free WiFi hotspot is now available at the Visitor Information Centre, and a number of picnic tables have been moved to the area to accommodate visitors who want to enjoy a picnic outside yet stay connected to the online world. WiFi is courtesty of OntarioEast.net.
Visitors can also browse local events and tourism news on CornwallTourism.com
About the Visitor Information Centre
The Visitor Information Centre is located at 160 Water Street East has a stock of Visitor Guides, maps and other information on area events, attractions, shops and restaurants. It is open 7 days a week, 8:30am to 4:30pm for the spring and summer months.   Free parking is available.
Category: Business
Categorised in: Business