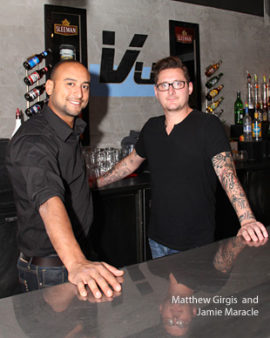 Vu Nightspot Celebrating Cornwall With Rep Your City Event
October 15, 2014
Cornwall Ontario – Matthew Girgis is living the dream. The St. Lawrence College grad, together with his partner Jamie Maracle, purchased local nightclub Vu this summer.
And now the young business owners want to give back to the community by holding a Rep Your City party on Saturday October 18.
"We love our city and we love our life because of where we are," says Mr. Girgis. "We would never have had the opportunity to own a club if we had lived in another city."
Mr. Girgis and Mr. Maracle took over Vu Nightspot on July 11th after managing it for two years. The nightclub is located at 113 1/2 Pitt St in Downtown Cornwall, and is a popular spot for people looking to dance and celebrate life.
The Rep Your City party will feature two people familiar to residents of the city. DJ George Thoms will be handling the music for the evening.  Mr. Thoms got his start DJing in Cornwall and is recently back from a tour in Paris.
Patrons will also be able to see art in action as artist Robbie Lariviere will be painting live at the club. Mr. Lariviere started a clothing line in Cornwall and runs the Fall Down Art Gallery in Ottawa.
There will also be door prizes and ChooseCornwall.ca items handed out throughout the night.
"We're proud to say we are from Cornwall, and we hope to ignite that same passion with our patrons," says Mr. Girgis.
Mr. Girgis and Mr. Maracle are also giving back to the community. A portion of the proceeds from the evening will be going to the United Way of Stormont Dundas and Glengarry.
About Vu Nightspot
Vu Nightspot, at 113 1/2 Pitt St, is one of Cornwall's hottest night spots with some of the best music in town! The club has featured and resident DJs spinning the best dance floor anthems, progressive house music, and floor-filing hip-hop throwbacks ensuring the dance floor is always packed. Vu Nightspot is open Thursday thru Saturday from 10pm to 2am. In addition to dance music, the nightclub hosts bands once a month and has welcomed acts such as Protest the Hero and Silverstein. Vu Nightspot has a staff complement of 23 people.