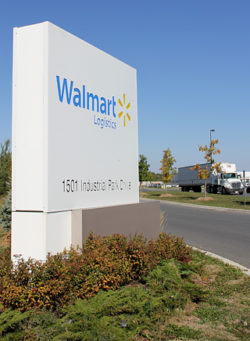 Walmart Canada Announces 200 New Distribution Centre Jobs in Cornwall
October 6, 2016
Cornwall Ontario – Walmart Canada Logistics, Cornwall's largest private sector employer, is hiring.
The company has announced it will be hiring over 200 associates in Cornwall for its distribution centre campus. The company will be holding a job fair from October 19 – 22 at the Cornwall Civic Complex, located at 100 Water Street East to meet prospective candidates for 200 positions at its Cornwall Distribution Hub.
"Walmart Canada is proud to be Cornwall's largest private sector employer. As we expand our distribution hub in Cornwall and prepare to open a new Perishable Distribution Centre next year, we are looking for new associates to join our growing logistics team," said Drew Robertson, Senior Director Logistics, Walmart Canada. "Through our job fair, we look forward to meeting with candidates who embody the Walmart Canada values of hard work and delivering on our commitment to help our customers save money so they can live better. If you're someone who shares these values and wants the opportunity to work with a great organization that offers flexibility and stability, we want to meet you."
The new 550,000 square foot Perishable Distribution Centre (PDC) will supply Walmart stores in Eastern Canada, from Kingston to Newfoundland. The PDC, which is expected to open in early 2017, is the latest investment made by Walmart to expand its distribution capacity for Eastern Canada, particularly for grocery items.
"It is great to see Walmart Logistics continue to succeed in Cornwall," says Mayor Leslie O'Shaughnessy. "This expansion is indicative of growing confidence in Cornwall as a strategic business location."
The Cornwall Distribution Hub also includes a Regional Distribution Centre, in addition to the recently opened High Velocity Distribution Center and Import Distribution Centre.
Walmart Logistics Job Fair
Over 4 days at the Cornwall Civic Complex, located at 100 Water Street East. Schedule as follows:
Wednesday, October 19 –  2 p.m. – 9 p.m
Thursday, October 20  –  11 a.m. – 7 p.m.
Friday, October 21  –  11 a.m. – 7 p.m.
Saturday, October 22  –  9 a.m. – 5 p.m.
Walmart Canada Logistics associates are a proud part of a global community of more than 2 million associates across 28 countries. 95,000 associates call Walmart Canada home and work hard every day in pursuit of our mission to save Canadians money, so they can live better. Walmart associates receive competitive wages and benefits, and enjoy working in a team environment with an inclusive culture. Associates have unparalleled career mobility, training, learning and development opportunities, and the ability to shape their own careers.
About Walmart Canada
Walmart Canada operates a growing chain of 400 stores nationwide serving more than 1.2 million customers each day. Walmart Canada's flagship online store, www.walmart.ca, is visited by 500,000 customers daily.With more than 95,000 associates, Walmart Canada is one of Canada's largest employers and is ranked one ofthe country's top 10 most influential brands. Walmart Canada's extensive philanthropy program is focused on supporting Canadian families in need, and since 1994 Walmart has raised and donated more than $250 million to Canadian charities.
Categorised in: Business