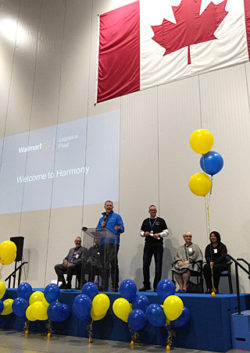 Walmart Logistics Celebrates Opening of Harmony DC
October 20, 2017
Cornwall Ontario – Walmart Logistics officially opened its new distribution centre in Cornwall this week.
The large modern facility measures 1.8 million sq.ft., and is referred to as the Harmony building, bringing  three distribution centres under one roof:
High Velocity Distribution Centre (HVDC) – This distribution centre deals with products that Canadians use every day.
Inbound Distribution Centre (IDC) – This operation deals with imported goods that come from afar.
Perishable Distribution Centre (PDC) This distribution centre deals with fresh produce, dairy and meat products that form the core of Walmart's growing grocery business.
The three distribution centres are joined by Walmart's Fleet Team Office.
"We are able to achieve efficiencies by combining our distribution efforts and working together as a team," says John Bayliss, Senior Vice President, Logistics, Walmart Canada. "Together with our Regional Distribution Centre next door, the Cornwall campus is one of three major hubs in Canada, and handles over 500,000 packages a day."
In the spring of 2015, Walmart purchased the facility in the Cornwall Business Park, which had just been built a few years before. Walmart engineers began work to bring the building up to its standards, and at the same time began construction of an expansion on the east side of the massive building. The project would entail building new concrete floors, new sprinkler systems, new dock level doors, new product racking and a state-of-the-art refrigeration and freezer system.
The facility boasts some impressive technology to improve efficiency, increase safety and help reduce the impact of operations on the environment. These technologies include the use of voice command software to help associates locate and pick items for shipping. LED technology is used for both interior and exterior lighting, resulting in a reduction of energy consumption by 74%.
Walmart also helped pioneer the use of hydrogen fuel cells in lift-trucks. The benefit is a substantial reduction in emissions, as water vapour is the only by-product of the chemical process in the fuel cell.
One of the more interesting (and newest) installations are the banana rooms, special areas that help control the ripening process of bananas.
Recently Walmart Logistics announced that it was looking to hire another 100 people to work at the Harmony Distribution Centre. Job postings can be viewed on the Work in Cornwall page of this website.
To help celebrate the occasion, Walmart also made a $50K donation to the Agapè Centre.
Fun Facts about the Harmony Distribution Centre
At 1.8 million sq.ft., the Harmony Building is larger than 31 football fields
At his top speed, Usain Bolt, the fastest man in the world, would need 4 minutes to run around the entire building
In an average week, the building processes 2.5 million cases of product
The fleet gatehouse sees over 19,000 trailers pass through its gates each month. That's enough trailers to stetch from Cornwall to Ottawa 3 times!
About Walmart Canada Logistics
Walmart Canada's distribution centres are hubs of activity, with over 4,500 associates and drivers moving thousands of items daily from sites located in Calgary, Mississauga and Cornwall to stores from coast to coast. Walmart Canada operates 8.75 million square feet of distribution centre and will move approximately 799 million cases of merchandise in FY18. These goods are transported by a combination of 3rd party fleet as well as Walmart Canada's fleet of 180 tractors, 2,000 trailers and more than 350 drivers. Walmart associates receive competitive wages and benefits, and enjoy working in a team environment with an inclusive culture. Associates have unparalleled career mobility, training, learning and development opportunities, and the ability to shape their own careers.
About Walmart Canada
Walmart Canada operates a growing chain of more than 410 stores nationwide serving more than 1.2 million customers each day. Walmart Canada's flagship online store, walmart.ca is visited by 600,000 customers daily. With more than 90,000 associates, Walmart Canada is one of Canada's largest employers and is ranked one of the country's top 10 most influential brands. Walmart Canada's extensive philanthropy program is focused on supporting Canadian families in need, and since 1994 Walmart Canada has raised and donated $275 million to Canadian charities.
Categorised in: Business