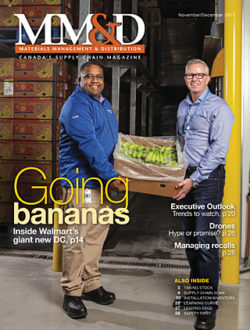 Walmart Logistics Featured in MM&D Magazine
January 4, 2018
Cornwall Ontario – Walmart's new Harmony Distribution Centre is featured in Canada's leading supply chain magazine, MM&D.
In a story entitled "Yes We Have Bananas", MM&D editor Emily Atkins explores how Walmart's newest Cornwall facility ensures that stores across Eastern Canada have fresh food, with a special focus on the most popular tropical treat.
"Walmart is acknowledged as a leading edge company when it comes to supply chain operations," notes Ms. Atkins. "When we heard that the Harmony DC had officially begun operations, we were intrigued at the opportunity to bring this story to our readers."
The Harmony Distribution Centre is located in the Cornwall Business Park just down the road from Walmart's regional distribution centre. The large modern facility measures 1.5 million sq.ft., and handles fresh produce, dairy and meat products that form the core of Walmart's growing grocery business. The distribution centre opened in October 2017.
For the article, Ms. Atkins toured the facility with Drew Robertson, Senior Director of Operations with Walmart Logistics along with General Manager, Curtis Brumfield. Ms. Atkins was able to see first hand the improvements in the facility, including banana ripening rooms that use state of-the-art technology to ensure that every case of the tropical fruit shipped arrives in stores at precisely the right moment in its lifecycle.
The Harmony Distribution Centre also houses Walmart fleet operations, along with dealing with imported goods and high velocity items. Together, the Harmony and Regional Distribution Centre form a Cornwall campus that handles over 500,000 packages a day.
In the article, Mr. Robertson acknowledged that future expansion is likely, noting that they are hiring an additional 100 associates. He noted that Cornwall is an attractive location with a burgeoning urban scene, while still maintaining its small-town charm.
Photographs in the article were taken by Jason McNamara, a Cornwall photographer.
"Jason's photos add a lot to the story," says Ms. Atkins. "It is difficult to capture just how large the distribution centre is, so we wanted to focus on the people and unique elements of the operation."
You can read the full article by clicking here.
About MM&D Magazine
MM&D is a multi-media publication reporting on and analyzing the integrated supply chain processes within the warehouse and DC environment. The focus is on practical, hands-on innovation, using real-world examples and case studies from Canadian operations, and includes topics ranging from materials handling, to inventory management, to warehouse design and efficiency.
About Walmart Canada Logistics
Walmart Canada's distribution centres are hubs of activity, with over 4,500 associates and drivers moving thousands of items daily from sites located in Calgary, Mississauga and Cornwall to stores from coast to coast. Walmart Canada operates 8.75 million square feet of distribution centre and will move approximately 799 million cases of merchandise in FY18. These goods are transported by a combination of 3rd party fleet as well as Walmart Canada's fleet of 180 tractors, 2,000 trailers and more than 350 drivers. Walmart associates receive competitive wages and benefits, and enjoy working in a team environment with an inclusive culture. Associates have unparalleled career mobility, training, learning and development opportunities, and the ability to shape their own careers.
You look for Walmart Logisicts employment opportunities on the Work in Cornwall page on this website.
Categorised in: Business