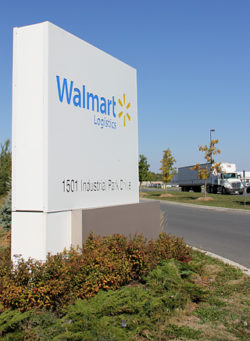 Walmart Logistics Recruiting for Cornwall Distribution Centre
July 21, 2017
Cornwall, Ontario – Walmart Logistics is continuing to recruit for associates and leaders at its Cornwall Distribution Hub, whichincludes a Regional Distribution Centre, High Velocity Distribution Centre, Import Distribution Centre and the recently opened Perishable Distribution Centre. This new facility measures over 1.5 million square feet and together with its nearby sister facility, supplies Walmart stores throughout Eastern Canada.
Job Fair
Walmart job fairs have proven to be excellent opportunities to meet with candidates on-site and discuss available opportunities.
Walmart Canada will host another job fair at its facility located at 1501 Industrial Park Drive, Cornwall on:
Thursday July 27, 2017 from 12:00pm – 6:30pm
"Our job fairs allow prospective leaders and associates to apply directly on site with our goal being to hire qualified candidates quickly," said Jesse Wilson, human resources business partner. "Candidates will also receive a realistic job preview including a mini tour of the site."
This latest recruitment effort follows similar job fairs hosted by Walmart Canada in late 2016 & early 2017, as the company continues to roll out additional departments within the Cornwall Distribution Hub. Positions that will be part of this recruitment event include:
Operations
• Associates
• Team Leaders/Supervisor
• Managers
Transportation
• Shunt/truck drivers
• Traffic Team Leader
• Dispatch Associates
• Regional Traffic & Transportation Manager
Job Postings
Job postings can be viewed on ChooseCornwall.ca, via the Work in Cornwall page.
About Walmart Canada Logistics
Walmart Canada's distribution centres are hubs of activity, with over 4,500 associates and drivers moving thousands of items daily from sites located in Calgary, Mississauga and Cornwall to stores from coast to coast. Walmart Canada operates 8.75 million square feet of distribution center and will move approximately 799 million cases of merchandise in FY18. These goods are transported by a combination of 3rd party fleet as well as Walmart Canada's fleet of 180 tractors, 2,000 trailers and more than 350 drivers. Walmart associates receive competitive wages and benefits, and enjoy working in a team environment with an inclusive culture. Associates have unparalleled career mobility, training, learning and development opportunities, and the ability to shape their own careers.
About Walmart Canada
Walmart Canada operates a growing chain of more than 405 stores nationwide serving more than 1.2 million customers each day. Walmart Canada's flagship online store, walmart.ca is visited by 600,000 customers daily. With more than 90,000 associates, Walmart Canada is one of Canada's largest employers and is ranked one of the country's top 10 most influential brands. Walmart Canada's extensive philanthropy program is focused on supporting Canadian families in need, and since 1994 Walmart Canada has raised and donated $250 million to Canadian charities.
Categorised in: Business