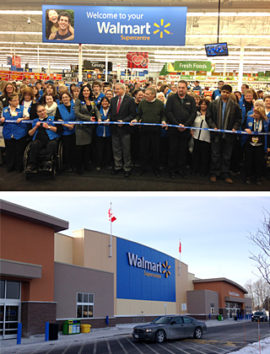 Walmart Supercentre Opens In Cornwall
January 29, 2015
Cornwall Ontario – The new Cornwall Walmart Supercentre was opened with energy and enthusiasm this morning as Walmart associates greeted smiling customers as they entered the doors to check out the new store.
"This is about the 20th store I have helped open, but this one is special," said Jacques Deslauriers, Walmart District Manager. "This is the first new store I open in my hometown, and I know the people of Cornwall are just as excited as we are."
The Walmart Supercentre is situated at the corner of Ninth and Cumberland, just east of its former location on Brookdale Avenue. The new store measures 195,000 sq. ft. and includes a full grocery, along with a McDonald's restaurant, pharmacy, hair salon, and other retail partners.
The new Supercentre employs 347 people, which represents 132 new hires. The store is managed by Erica Woodward, who has been with Walmart since 2009 and is an excellent example of the career growth that Walmart offers.
"This new store will help keep shopping dollars in Cornwall," said Mayor Leslie O'Shaughnessy. "We are very appreciative of the continuing investment by Walmart in our community, and recognize the significant positive impact on our economy."
The Walmart associates in Cornwall have raised and donated $66,256 to local charities over the years. At today's grand opening, they presented more than $6,000 to the Cornwall Hospice, Royal Canadian Legion, OSPCA and ALS.
The store is open from 7:00am to 11:00pm, 7 days a week.
SmartCentres
The Walmart Supercentre anchors a new commercial plaza developed by SmartCentres.  Cornwall Transit has altered bus routes to service the new retail plaza, and for passenger convenience, a new bus shelter has been installed near the southwest corner of the property.
SmartCentres is Canada's largest developer and operator of unenclosed shopping centres with more than 250 locations across Canada. Work began on the site in 2012, and accounted for building permits with a combined value in excess of $11 million.
The SmartCentres project was supported with the City's Brownfield Community Improvement Program, which offset the costs of remediating the former industrial site.
"What was once vacant contaminated land in the centre of the city is now a vibrant commercial plaza which is contibuting to the City's economy," said Dana McLean, Planning Program Administrator.
The SmartCentres commercial plaza is also home to Dollar Tree Canada and has space available for both in-line and pad tenants for a wide range of uses.
Walmart Logistics
Walmart has a strong presence in Cornwall. Along with the new Supercentre, Cornwall is home to the Walmart Logistics Distribution Centre which services Central and Eastern Canada. Locate in the Cornwall Business Park and measuring 1.4 million sq.ft., the Walmart Logistics Distribution Centre is Cornwall's largest private sector employer.