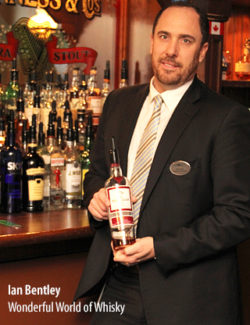 Whisky Show Gaining National Recognition
January 19, 2017
Cornwall Ontario – "Too much of anything is bad, but too much good whiskey is barely enough."
Connoisseurs of  everything whiskey will want to mark their calendars for the Wonderful World of Whisky Show being held in Cornwall on March 25th.
The event is the brainchild of Ian Bentley, Director of Conference Services and Food and Beverage for the NAV CENTRE and an admitted fan of the amber liquid.
"Whisky is very much an art form, and much of the pleasure is in exploring," says Mr. Bentley. "Attendees will be able explore Canadian rye whiskies, American Bourbons, Classic Irish whiskies and of course the amazing world of Scotches."
The show will take place between  between 7:00pm and 11:00pm on the 25th, with the spacious ballroom at NAV CENTRE transformed into a mini-camp of tents – each with their own theme.
Attendees will be able to sample over 100 whiskies and 4 Ontario craft breweries, while enjoying live music and the culinary talents of Executive Chef Luc McCabe.
"If you have been to one whisky show, you can expect a top-notch experience in Cornwall," says Mr. Bentley. "If this is to be your first time at a whisky show, be prepared to want to come again."
Master Classes
In addition to swag that includes a branded Glencairn whisky glass, attendees will also have the opportunity to attend 3 educational seminars.
"We are very excited to have some of the top whisky experts in the world joining us and sharing their knowledge," says Mr. Bentley.
Master Classes are 45 minute tasting events that will be held before the official show opening:
"The Peat Lover's Dream" –  Blind tasting hosted by the Whisky Lassie – Johanne McInnis
"An Ode to The Macallan" – Hosted by Dave Smith of Beam Suntory
"A Celebration of Canadian Whisky"- Hosted by Davin De Kergommeaux
More information on the Wonderful World of Whisky can be found on a new website to be launched today:
Transit
Guests will be able to take Cornwall Transit to and from the NAV CENTRE without charge by simply showing their Whisky Show ticket.
Tickets
Ticket prices are $100 and are available online at:
You can also purchase tickets inperson at the NAV CENTRE located at 1950 Montreal Road. Limited quantities of tickets to the master class are available for an additional $25.
Attendance at the Wonderful World of Whisky will be capped at 500 guests, and the show is expected to sell out before the end of February. Guests have already registered from across Ontario, Quebec and the United States. Guests must be 19 years or older to attend.
Rooms
Room packages are also available from NAV CENTRE.
About the NAV CENTRE
The NAV CENTRE is a training and conference venue owned and operated by NAV CANADA. It offers access to 550 guest rooms, 70 state-of-the-art classrooms and meeting rooms, as well as an auditorium. Other amenities include a gymnasium and fitness facilities, as well as multiple dining options. The NAV Centre is also an accredited member of the International Association of Conference Centres (IACC), provided for adhering to globally-recognized standards in hospitality service.
Categorised in: Business