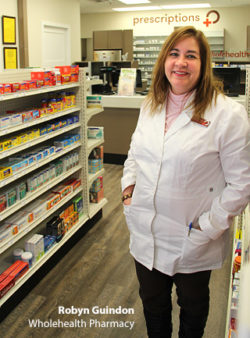 Wholehealth Pharmacy Opens At Time Square
November 28, 2016
Cornwall Ontario – A familiar face is back behind the counter.
Robyn Guindon has opened Wholehealth Pharmacy at Time Square on Second Street in Downtown Cornwall.  The well-respected pharmacist has served Cornwall customers for over two decades.
"We felt the growing population of Downtown Cornwall needed a new choice when it came to their health needs," says Ms. Guindon.  "Time Square is centrally located and offers lots of free parking – it was the perfect choice for us."
Wholehealth is a full-service pharmacy that in addition to prescription and over the counter medicine offers home health care products. Wholehealth also offers medication reviews, home delivery, home medication checks, injections, and compression sock fittings.
"Our new pharmacy is a return to the neighbour drug store of the past that focuses on the patient and their whole health," says Ms. Guindon. "We offer one-on-one patient counselling in a professional and private setting."
Wholehealth Pharmacy Partners is Canada's newest pharmacy banner. It was started in April of 2016 and it already has 25 pharmacies stretching from Surrey, BC in the West to Cornwall in the East. It is a group of pharmacies known for its high degree of patient care and services.
"Our philosophy is embedded in our name, in that we want to focus on the whole health of the patient," says Ms. Guindon. "The entire design of the pharmacy, which includes two private counselling rooms, is a reflection of that philosophy."
Wholehealth Pharmacy was started by a group of individuals who shared a common dream – a dream that involves bringing together like-minded pharmacists across the country who want to return the practice of pharmacy back to its grassroots where the focus is on the patient. There is also a demand amongst patients, as they age, to take more control over their own health which includes developing a strong relationship with a pharmacist, in a pharmacy focused on patient care.
Wholehealth Cornwall is located at 106 Second Street West (Time Square) and is open Monday to Friday from 9 am – 6 pm, and again on Saturday from 9 am – 1 pm. The store currently has six employees.
Wholehealth Pharmacy is owned and operated by Upper Canada Apothecary Inc. Ms. Guindon is the Pharmacist/Manager.
Categorised in: Business