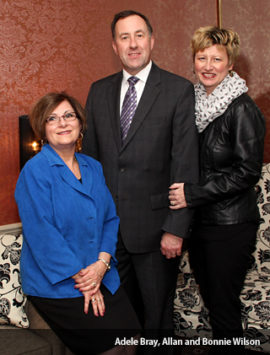 Wilson Acquires Boulerice Funeral Home
December 21, 2015
Cornwall Ontario – The Wilson and Boulerice families represent the longest standing family run funeral homes in Cornwall with over 100 years of combined existence.
Recently, Wilson Funeral Home acquired and began operation of Boulerice Funeral Home.
"The acquisition allows us to accommodate growth in our business," says Allan Wilson, owner and funeral director of Wilson Funeral Home.
The Wilson and Boulerice families have always been friends in business. Boulerice Funeral Home was founded by the late Romeo Boulerice 61 years ago while the Wilson Funeral Home was founded by Ronald and Claire Wilson in 1976. Ron Wilson was successful in working with a number of the other funeral directors to change the way the industry operated in Ontario, and is highly regarded as a pioneer in the industry.
In the early 1980's, Mr. Wilson and Mr. Boulerice had a vision to bring their businesses together. Although the two business owners had serious talks, nothing came of the opportunity.
Ron and Romeo eventually handed over the reins of their business to their children. Allan Wilson and his wife Bonnie took over Wilson Funeral Home and Romeo's daughter Adele and her late husband Richard Bray took over the operation of Boulerice Funeral Home.
Like their parents, Allan and Adele were open to working together, and when it was time for Adele to retire, the idea of bringing the businesses together was renewed.
"We began talking over a year ago, and the focus was always about ensuring that our community is well served by local professionals," says Mr. Wilson. "We look forward to maintaining the Boulerice name and tradition of excellence in Le Village."
Wilson Funeral Home now becomes the only locally owned and operated funeral home in Cornwall.  It has quietly grown to become one of the busiest independently operated funeral homes in Eastern Ontario, and is the chosen representative to the Chief Coroner of Ontario, responding to numerous calls throughout the year wherever there has been a sudden death requiring investigation.
The acquisition secures 5 jobs and brings the total staff compliment to 18 people.
Wilson Funeral Home is located at 822 Pitt Street in the central core of Cornwall. The Boulerice Funeral Home is located at 218 Montreal Road in the Le Village business district.
You can find more information about Wilson Funeral Home online:
Wilson Funeral Home is featured in the 2015 Year in Review report. You can download the report here: