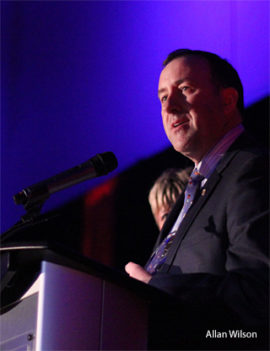 Wilson Funeral Home Named Small Business of the Year
February 25, 2016
Cornwall Ontario – Allan Wilson has forged a successful business career by carefully planning and ensuring that his customers and clients were taken care of. Surprises, in his line of business, are rarely welcome.
Yet it was indeed a welcome surprise for Mr. Wilson when he heard his name called as the Chamber was announcing the 2015 Small Business of the Year.
"It is an honour to be recognized by your peers, especially when the award recognizes the work that you do in the community," said Mr. Wilson, owner of Wilson Funeral Home. "My parents started the business in 1976 and forty years later we are stronger than ever."
In 2015, Wilson Funeral Home acquired Boulerice Funeral Home, and in the process became the only locally owned and operated funeral home in Cornwall.
"We are proud to serve families in Cornwall and the Counties, and we hope they are happy with our service," says Mr. Wilson.
Wilson Funeral Home has quietly grown to become one of the busiest independently operated funeral homes in Eastern Ontario, and is the chosen representative to the Chief Coroner of Ontario, responding to numerous calls throughout the year wherever there has been a sudden death requiring investigation.
Wilson Funeral Home is located at 822 Pitt Street in the central core of Cornwall. The Boulerice Funeral Home is located at 218 Montreal Road in the Le Village business district.
You can find more information about Wilson Funeral Home online:
Business Excellence Awards & Citizen of the Year
The Chamber of Commerce Business Excellence Awards is a distinguished Cornwall tradition established in 1988. The Awards recognize outstanding achievements by Cornwall area businesses and individuals in the fields of commerce, community work and/or innovation. The awards ceremony, coupled with the presentation of the coveted Citizen of Year award is one of Cornwall's most prestigious annual affairs.
For more info on past winners, follow this link:
Categorised in: Business