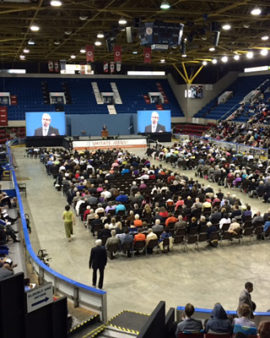 Witnesses Return to Cornwall for Watch Tower Conventions
June 10, 2016
Cornwall Ontario – Thousands of Jehovah's Witnesses have travelled to Cornwall for the first of three Watch Tower conventions being held at the Cornwall Civic Complex.
"We are very happy to welcome the Witnesses back to Cornwall," says Janice Robinson, Facilities Rental Co-ordinator with the City of Cornwall.  "The event fills the entire building with positive energy and we appreciate the opportunity to showcase the city to so many visitors."
Watch Tower conventions are held throughout the world, and 29 will take place across Canada this year. 2016 marks the 18th consecutive year that the convention has been held in Cornwall.
"Altogether more than 7,500 delegates will be attending the Cornwall conventions," noted Ms. Robinson. "While they are here, it is estimated the visitors will inject more than $4.5 million dollars into the local economy."
This weekend is the first of three conventions, which run Friday to Sunday over consecutive weekends:
June 10-12 – English
June 17-19 – English
June 24-26 – French
2016 Convention Theme
During the months of June through August, in Canada, Jehovah's Witnesses will present 57 convention programs in 26 locations across the country.  This year's convention theme is Remain Loyal to Jehovah. The three-day program will feature 49 presentations, each exploring the theme "loyalty".
"We strongly believe that loyalty is an essential part of any healthy relationship", says Lynn Hess, one of the local Cornwall Convention Co-ordinators.  "Our convention this year features content that will help people develop stronger bonds with friends, family members and, above all with God."
A special highlight of the program will be on Sunday where, by means of a gripping feature-length film, one can observe how King Hezekiah 'held fast to Jehovah' while being besieged by his enemies (2 Kings 18:6).  Another short film will be shown on Saturday, featuring a modern day family and their determination to be loyal to Jehovah in spite of intense suffering.
The public is invited to attend any session or the entire program at the Cornwall Civic Complex.  There is no admission fee as the Conventions of Jehovah's Witnesses are supported entirely by voluntary donations.
For more information, visit the Watch Tower web site at www.jw.org
About the Civic Complex
Situated in scenic Lamoureux Park along the banks of the St. Lawrence River, the Cornwall Civic Complex is a modern facility that offers convention seating for up to 5800 people along with a versatile sound and light infrastructure.
Categorised in: Business