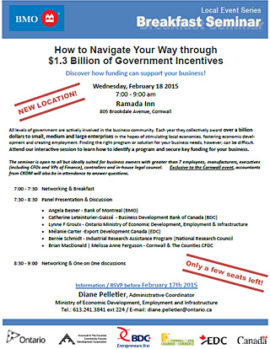 Workshop Delivers The Goods On Business Incentives
February 5, 2015
Cornwall Ontario – In today's competitive economic climate, its nice to know that there is help if you need it.
Business owners in Cornwall and the surrounding region can learn exactly what financial assistance may be available to them to help grow their business.  Entitled "How to Navigate Your Way through $1.3 Billion of Government Incentives," the two-hour workshop is scheduled for Wednesday February 18 at the Ramada Hotel in Cornwall.
All levels of government are actively involved in the business community. Each year they collectively award over a billion dollars to small, medium and large enterprises in the hopes of stimulating local economies, fostering economic development and creating employment.
"Finding the right program or solution for your business needs can be difficult," says Angela Besner, Commercial Account Manager for BMO Bank of Montreal. "We have brought together several experts in one interactive session to help business owners find out how to secure key funding."
The seminar is open to all but ideally suited for business owners with greater than 7 employees, manufacturers, executives (including CFOs and VPs of Finance), controllers and in-house legal counsel.
Schedule and Speakers
7:30 – 8:30 Panel Presentation & Discussion
Angela Besner – Bank of Montreal (BMO)
Catherine Leteinturier-Guissé – Business Development Bank of Canada (BDC)
Lynne F Groulx – Ontario Ministry of Economic Development, Employment & Infrastructure
Mélanie Carter -Export Development Canada (EDC)
Bernie Schmidt – Industrial Research Assistance Program |National Research Council
Brian MacDonald | Melissa Anne Ferguson – Cornwall & The Counties CFDC
8:30 – 9:00 Networking & One on One discussions
Exclusive to the Cornwall event, accountants from CKDM will also be in attendance to answer questions.
The seminar is being organized by BMO and is supported by the organizations listed above.
Registration Information
Space is limited for this event. Interested people are invited to RSVP before February 13 by contacting Diane Pelletier at the Ministry of Economic Development, Employment and Infrastructure by phone (613.241.3841 ext 224) or by e-mail: diane.pelletier@ontario.ca
Related Information
Check out the Financial Incentives page for some additional information on funding programs available to business owners.