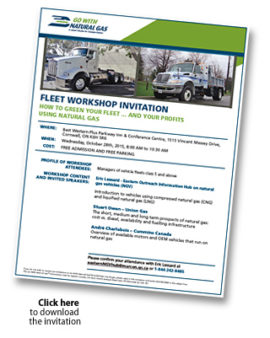 Workshop to Help Fleet Owners Explore the Natural Gas Option
October 22, 2015
Cornwall Ontario – A workshop is being held on October 28 to illustrate the benefits of using natural gas in trucking fleets. This is the first time such a workshop has been held in Eastern Ontario.
"Our objective is to help decision makers consider the option of using natural gas to power their fleets," said Eric Lessard, Eastern Hub Co-ordinator for Go With Natural Gas. "The information is being provided on a neutral, objective basis.
In addition to Mr. Lessard who will provide an introduction to vehicles using compressed natural gas (CNG) and liquefied natural gas (LNG), the workshop will also feature two additional speakers. Stuart Owen from Union Gas will explore the short, medium and long term prospects of natural gas, its cost vs. diesel, and the availability and fuelling infrastructure. André Charlebois from Cummins Canada will also provide an overview of available motors and OEM vehicles that run on natural gas.
North American fleet owners are increasingly considering a switch to natural gas for their truck and bus operations. Natural gas vehicles are viewed to offer many benefits such as significant fuel savings and reduced greenhouse gas emissions by as much as 25%. Natural gas vehicles incorporate proven, commercial engine technologies with power and performance similar to diesel engine technologies.
Cornwall was chosen for the location of this seminar due to its emergence as a major logistics hub in Central Canada. It is the home to major distribution centres for Walmart, Shoppers Drug Mart and the Benson Group.
"There is an large number of transportation companies in Eastern Ontario and Western Quebec, with many having operations in Cornwall," says Mr. Lessard.
Several months ago, Cornwall based Minimax Express became the first transport company in Canada to purchase trucks powered solely by Liquefied Natural Gas (LNG). Gaz Metro has established a LNG fueling station in the Cornwall Business Park.
Event Details
The workshop is being organized for managers of vehicle fleets class 5 and above and will be held from 8:00am to 10:30am at the Best Western Plus Parkway Inn & Conference Centre in Cornwall (1515 Vincent Massey Drive).
The event is made possible through funding from Natural Resources Canada and the Canadian Natural Gas Vehicle Alliance.
There is no cost to participate, however people looking to attend are required to register in advance by calling 1-844-242-8485.
About Go With Natural Gas
Go With Natural Gas is a collaborative industry-government initiative to encourage greater use of natural gas in Canada's transportation sector.