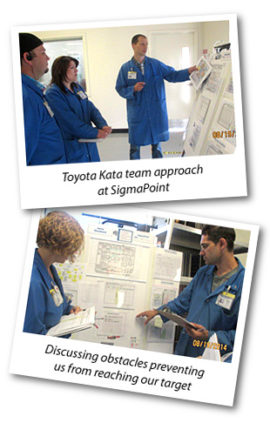 World-Class Seminar On Kata Methodology
September 16, 2014
Cornwall Ontario – Manufacturers looking to improve their processes will have an opportunity to learn more about the Toyota Kata methodology at an intensive two-day work shop in Cornwall Ontario.
The Association for Manufacturing Excellence (AME) is organizing the event which will be held October 16 and 17 at SigmaPoint Technologies.
SigmaPoint has been on a Lean Manufacturing Journey for seven years and was recently featured in a Province of Ontario publication on best practices in the manufacturing sector.  Attendees to the workshop will learn firsthand how SigmaPoint uses Kata methodologies to further develop their employees and drive continuous improvement.
"We look forward to welcoming our colleagues to Cornwall and demonstrating the success we have had at SigmaPoint," said Dan Bergeron, SigmaPoint President.
The Kata Coach of the event is Brandon Brown, an Associate for the W3 Group and a recognized expert in the field. Mr. Brown is a member of the faculty at the University of Arkansas teaching courses on Lean Production and Leadership Principles and Practices. He is also an accomplished Kata Coach and Lean Instructor, working with companies deploying Toyota Kata.
Organizers are inviting business leaders who are responsible for affecting a new direction regarding how their organization views management, improvement, adaptability and innovation.
"Anyone interested in learning how to focus their valuable and, oftentimes, limited resources should attend," said Stéphane Dubreuil, SigmaPoint's Director of Operations. "Participants will learn how to engage their teams in daily continuous improvement activities that will guide them along their Lean Journey's path to perfection."
People can register online by clicking on the following link.
Toyota Kata at SigmaPoint Technologies
October 16 to October 17, 2014
8:00 am to 5:00 pm
AME members receive a discounted rate for this and other AME conferences, seminars, workshops.
About The Association for Manufacturing Excellence
The Association for Manufacturing Excellence (AME) is the premier organization for the exchange of knowledge in enterprise excellence. Members come together to explore Lean thinking and other enterprise improvement methods, exchange best practices and network in order to improve the competitiveness and overall value of their organizations. www.AME.org
About SigmaPoint
SigmaPoint Technologies Inc. is an electronic manufacturing services (EMS) provider focused on developing long-term partnerships with clients and suppliers. SigmaPoint provides end-to-end assembly services for highly complex electronic products within communication, medical, defense, industrial, and transportation markets. For more information visit www.sigmapoint.com