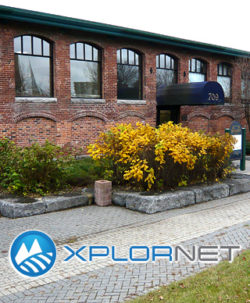 Xplornet Announces Major Investment in Cornwall
October 19, 2016
Cornwall Ontario – Renovations will begin shortly on a new multi-function regional office for Xplornet Communications.
The investment will see the addition of over 130 new full-time jobs in Canada's technology sector.
"Our customers live in rural communities across Canada," said Allison Lenehan, CEO of Xplornet. "To continue our heritage of providing exceptional customer service, we choose to invest in rural communities.  We think Cornwall and the surrounding areas in Eastern Ontario are representative of our customers and ultimately, of rural Canada itself.  This expansion promises exciting opportunities for our company, and we envision an equally bright future for our operations in Cornwall."
In total, Xplornet will invest approximately $40 million over the next five years in its new Cornwall operations.  The new offices will be located in the revitalized Weave Shed Complex in Cornwall's Cotton Mills district, located in close proximity to downtown and within walking distance of the Le Village business district and St. Lawrence College.
"The City of Cornwall continues to boast a highly skilled and diverse workforce that can meet the needs of innovative companies like Xplornet," said Leslie O'Shaughnessy, Mayor of Cornwall. "The decision to undertake an investment like this demonstrates Cornwall's appeal for new investment, and will serve as a catalyst for further development in Cornwall's historic Cotton Mills district."
Once fully operational, the office will support all core company functions, including technical service, customer care, sales, network, and corporate support.   The office will be the first of its kind for Xplornet, with the implementation of proprietary technology that will enable the company to deliver customer care approaches not previously seen in the telecommunications sector.
Cornwall was selected as the preferred location because of its strong local economy and the quality of its workforce.
"The presence of an innovative company like Xplornet in Eastern Ontario is exactly the type of investment our region needs," said Guy Lauzon, Member of Parliament for Stormont-Dundas-South Glengarry.  "It has been a pleasure working with the Xplornet Team to bring this project to the riding of Stormont Dundas and South Glengarry, and I hope to continue to work with companies like Xplornet to grow our community and position Cornwall as an exciting, innovative place to invest and create jobs."
In recent years, Xplornet has achieved significant growth to become Canada's largest rural-focused Internet service provider.  Next year will see a major expansion of its network, with the continued extension of its LTE Internet service combined with the launch of two new satellites offering Internet download speeds not previously seen in many parts of rural Canada.  This new office is an important addition that will support the anticipated needs of customers in the Eastern Ontario region and throughout Canada.
"This is the kind of new investment that we anticipated for eastern Ontario when we launched the Eastern Ontario Regional Network project," said David Burton, Chair of the Eastern Ontario Regional Network.  "It is heartening to see Xplornet, one of our key partners, show its confidence in the region by making this substantial commitment."
Xplornet plans to create over 130 full-time, highly skilled jobs in the next 5 years, with attractive compensation packages. Recruitment is already underway.
Job postings can be accessed via the Work in Cornwall page on this website. For more information regarding a career at Xplornet, visit xplornet.com/careers.
About Xplornet Communications Inc.
Xplornet Communications is Canada's leading rural broadband provider. The company has overcome the challenges of Canada's vast geography through deployment ofCanada's first national 4G network, which leverages both fixed-wireless towers on the ground and next-generation satellites in space. Xplornet has been nationally recognized in four of the last five years as a Top Employer in Atlantic Canada, has been named a Canadian Telecom Employer of Choice for three years in a row, and has a proven reputation for developing and promoting internal talent.
Categorised in: Business