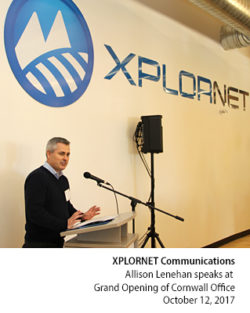 Xplornet Celebrates Official Opening of New Office in Cornwall
October 12, 2017
Cornwall Ontario – Xplornet officially opened its new contact centre in the Historic Cotton Mill District today.
"We are delighted to celebrate the official opening of what we view as an exciting new part of our company. We envision a bright future for Xplornet in Cornwall in the years ahead," said Allison Lenehan, President and CEO, Xplornet Communications Inc.. "We think Cornwall and the surrounding areas in Eastern Ontario are representative of our customers and ultimately, of rural Canada itself."
Less than a year ago, Xplornet announced that it would invest at least $40 million in its new Cornwall operations. Cornwall was selected as the preferred location because of its strong local economy and the quality of its workforce.
"The City of Cornwall continues to boast a highly skilled and diverse workforce that can meet the needs of innovative companies like Xplornet," said Leslie O'Shaughnessy, Mayor of Cornwall. "This significant investment shows Cornwall's appeal, and will serve as a catalyst for further development. We are delighted to welcome Xplornet to our community."
Xplornet's Cornwall office is staffed with over 100 people, including managers and front-line customer care staff.  The office totals 17,000 sq.ft and features modern work stations equipped with the latest in communications technology.
For Cornwall and the surrounding region, the results of Xplornet's new regional headquarters have been significant:
As a result of the company's continued growth Xplornet has already created over120 full-time, highly skilled jobs with attractive compensation packages,exceeding its hiring targets in the last year;
Now fully operational, the office will support Xplornet's growing customer base and all core company functions, including technical service, customer care,sales, network, and corporate support
"One of the reasons we choose Cornwall was because the City sits on Canada's fibre optic backbone," says Mr. Lenehan. "The local network has been made even more robust by recent investments and improvements by the Eastern Ontario Regional Network."
Xplornet is one of Canada's fastest growing telecommunications companies, with customers in every province and territory. Xplornet has been nationally recognized infour of the last five years as a Top Employer in Atlantic Canada, has been named a Canadian Telecom Employer of Choice for three years in a row. This year, Xplornetwas named the best company to work for in Canada's telecommunications sector by Forbes Magazine.
About Xplornet Communications
Headquartered in Woodstock, New Brunswick, Xplornet Communications Inc. is one of Canada's leading broadband service providers. For over a decade, Xplornet has been providing innovative broadband solutions to rural customers at work, home and play across Canada. Today, Xplornet offers voice and data communication services through its unique wireless and satellite network that connects Canadians to what matters.
For more information regarding a career at Xplornet, visit xplornet.com/careers.
Categorised in: Business