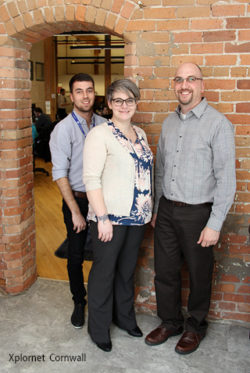 Xplornet Making Progress with Cornwall Contact Centre
April 13, 2017
Cornwall Ontario – Xplornet's new contact centre is up and operating in Cornwall, yet big changes are planned for the near future, and they include more staff and a larger office.
"We continue to be extremely pleased with the progress made in just a few short months," says James Maunder, Vice President, Public Affairs and Communications. "We have been warmly welcomed by the community – so much so that we intend to exceed our hiring targets much sooner than anticipated."
Xplornet announced in late 2016 that it was establishing a state of the art contact centre in Cornwall.  Since that time the company has filled 63 full-time positions, including managers and front-line customer care staff.
Xplornet continues to recruit to attract new team members. By the end of the summer the company expects to have workforce of 120 people.
"Our total compensation package for employees is 15-30% higher than similar positions offered by our competitors in the region," notes Mr. Maunder. "Our recruitment drive will be ongoing throughout the Spring and Summer and we encourage anyone interested in joining our team to apply."
Xplornet is working with local contractors to complete substantial renovations to its Cornwall offices located in the Historic Cotton Mill District.  The task of furniture selection and other elements of an interior design are being finalized to create a modern space team members will be proud of.
In total, Xplornet anticipates making an investment of roughly $40 million in the region over the next 5 years.
In recent years, Xplornet has achieved significant growth to become Canada's largest rural-focused Internet service provider.  Job postings can be accessed via the Work in Cornwall page on this website. For more information regarding a career at Xplornet, visit xplornet.com/careers.
About Xplornet Communications Inc.
Xplornet Communications is Canada's leading rural broadband provider. The company has overcome the challenges of Canada's vast geography through deployment ofCanada's first national 4G network, which leverages both fixed-wireless towers on the ground and next-generation satellites in space. Xplornet has been nationally recognized in four of the last five years as a Top Employer in Atlantic Canada, has been named a Canadian Telecom Employer of Choice for three years in a row, and has a proven reputation for developing and promoting internal talent.
Categorised in: Business