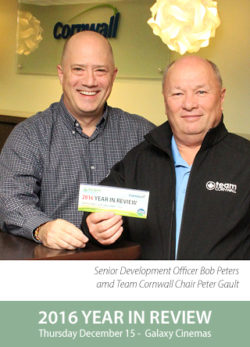 Year in Review Gathering Set For December 15
November 23, 2016
Cornwall Ontario – In what has become a Cornwall tradition, Team Cornwall will host the popular Year in Review meeting on Thursday December 15th.
The meeting annually attracts well over 300 community leaders who are eager to hear a recap of the year's economic activity, compiled by the City's Economic Development Department.
The meeting will be held at Galaxy Cinemas on Second Street. Doors will open at 7:00 a.m. and the meeting will begin at 7:30 a.m. sharp.
The Year in Review report summarizes major development activity that has occurred in Cornwall over the past 12 months.
"2016 has been a busy year of notable developments in both the private and public sector," said Bob Peters, Senior Development Officer with Cornwall Economic Development. "Our goal is to showcase the overall positive impact that results from individual decisions to invest."
The meeting is a particularly important one according to Team Cornwall Chair Peter Gault.
"Cornwall Economic Development does an excellent job in preparing the Year in Review presentation," said Mr. Gault. "It is exciting to recap the success of the past year so that we can all take that information and share it with people beyond the boundaries of Cornwall."
"Success breeds success, and we can all play a role in helping attract the next investor by speaking positively about our community," added Mr. Gault.
Open to All
The meeting is open to all – regardless of Team Cornwall membership. A light breakfast will be served at 7:00 am, followed by the regular meeting. As always, the meeting is expected to attract a number of special guests from outside the region.
Local Artist and Vendor Bazaar
A bazaar featuring one-of-a-kind gift ideas from over a dozen local artists and vendors will once again greet attendees as they exit the theatre.  The popular bazaar is organized by the Cornwall Business Enterprise Centre.
Team Cornwall Achievements
Along with the presentation from Cornwall Economic Development, Team Cornwall will also be highlighting its members' efforts and accomplishments to promote Cornwall over the past year.
Reserve Your Spot!
Tickets to the Team Cornwall Annual General Meeting are $15 each. To reserve a spot, please contact Cornwall Economic Development at 613-933-0074 or ecodev@cornwall.ca.  Tickets can also be picked up at the Cornwall Economic Development office at the Civic Complex. Space is limited to the first 300 people, so organizers strongly encourage people to pick up their tickets in advance.
About Team Cornwall
Team Cornwall is a group of business people who have banded together to promote Cornwall to their business contacts around the world. Working closely with Cornwall Economic Development, the Chamber of Commerce and other local organizations, Team Cornwall members help spread the word about the considerable advantages of living and doing business in our hometown.
More information about the meeting and Team Cornwall can be found on the Team Cornwall website at www.TeamCornwall.com.
Categorised in: Business