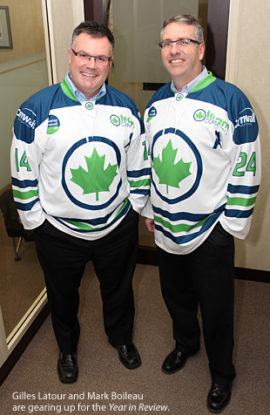 Year in Review Meeting Set for December 18
December 3, 2013
Cornwall Ontario – The date has been set for the annual Year in Review meeting, hosted by Team Cornwall. The meeting on December 18th will be the fifteenth consecutive year that a recap of the year's economic activity has been compiled by the City's Economic Development Department.
Doors will be open at 7:00 a.m. and the meeting will begin at 7:30 a.m. sharp at the Galaxy Cinemas on Second Street East.
"Throughout the year companies and individuals invest in our City – leading to new jobs and new assessment," said Mark Boileau, Manager of Cornwall Economic Development. "Some development projects are well known, while other investments are less visible. All of the economic activity is important and every dollar invested goes towards helping Cornwall grow and prosper."
The meeting always attracts a full house of community and business leaders, and Mayor Bob Kilger is expected to welcome a number of out-of-town guests as well.
"Cornwall has increasingly been a topic of interest in corporate boardrooms across Canada," said Mayor Kilger. "That interest leads to investment which generates more interest and investment."
Team Cornwall Achievements Along with the presentation from Cornwall Economic Development, Team Cornwall will also be highlighting its members' efforts and accomplishments to promote Cornwall over the past year.
"Team Cornwall works to support Cornwall Economic Development and its efforts to attract new investment to Cornwall," said Gilles Latour, Chair of Team Cornwall. "We always look forward to this meeting as a way of seeing exactly how we are doing and to hopefully get a glimpse of what is down the road."
Open to All
The meeting is open to all – regardless of Team Cornwall membership. A light breakfast will be served at 7am, followed by the regular meeting.
Previous Year in Review Reports
Previous Year in Review reports prepared by Cornwall Economic Development can be downloaded from the Resources section of this website.
Local Artist and Vendor Bazaar
A small bazaar, organized by the Cornwall Business Enterprise Centre, will greet attendees as they enter and exit the theatre. The bazaar proved popular last year as people looked to finish up their holiday shopping with one-of-a-kind gift ideas from over a dozen local artists and vendors.
Reserve Your Spot!
Tickets to the Team Cornwall Year-In-Review meeting are $10 each and can be purchased by calling Julie Donkers at 613-933-0074. This annual meeting is a sold out event and space is limited to the first 300 people, so we strongly encourage you to pick up your tickets in advance.
About Team Cornwall
Team Cornwall is a group of business people who have banded together to promote Cornwall to their business contacts around the world. Working closely with Cornwall Economic Development, the Chamber of Commerce and other local organizations, Team Cornwall members help spread the word about the considerable advantages of living and doing business in our hometown.
For more information about the meeting and about Team Cornwall, please visit www.TeamCornwall.com.