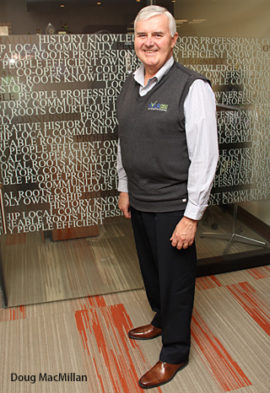 Your Credit Union Expands to East End
March 23, 2016
Cornwall Ontario – Your Credit Union has opened a new branch in Cornwall's East End, in an effort to meet the demands of a growing client base.
"We have been considering a second branch for quite some time, and given that the majority of city residents live in the East, we knew which direction to head," says Doug MacMillan, Director of Retail Services at Your Credit Union.
The new branch is located in the Glengarry Square commercial plaza on Second Street, adjacent to the LCBO.
The new branch is open Monday to Wednesday from 9am to 4pm and Thursday and Friday from 9am to 6:30pm.
"We invite the community to come and join us for our grand opening on April 12 from 4pm to 6pm," says Mr. MacMillan.
The new location follows the opening of a kiosk office at the Cornwall Community Hospital in September 2015.
These expansions have helped the company add 3 full time positions in Cornwall.
"It has been a very positive year for us," notes Mr. MacMillan. "As Cornwall grows, Your Credit Union will be there to support local individuals, families and companies.
In 2012, Your Credit Union completed a $1-million facelift to its Downtown Cornwall headquarters at 321 Second Street West.
Your Credit Union has been a fixture in Cornwall for 57 years, originally starting out as the Howard Smith Credit Union serving employees of the former Domtar paper mill. Since that time, the credit unions for employees of the City of Cornwall and the two former hospitals in the City have joined Your Credit Union.
Today, Your Credit Union offers a variety of financial products and services for members residing throughout Cornwall, Ottawa and Eastern Ontario.
About Your Credit Union
Your Credit Union serves members across Ottawa-Carleton, Cornwall, and rural Eastern Ontario, and has a history dating to 1950. In 1999, the Howard Smith Credit Union in Cornwall, along with two other credit unions, joined forces with the Ottawa Carleton Education Credit Union, which would become Your Credit Union in 2004. In 2009, Your Credit Union became an open bond financial institution allowing it to open its doors to the communities it serves and invite anyone to become a member.
https://www.yourcu.com/Personal/ProductsAndServices/Banking/WaysToBank/CornwallEast/
Categorised in: Business