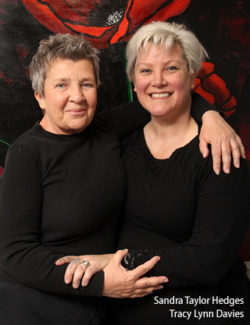 Cailuan Gallery Adds to the Creative Vibe of Downtown
March 21, 2017
Cornwall Ontario – The artistic side of Cornwall will be on display at the new Cailuan Gallery and Studios at 225 Pitt Street.
The project is the brainchild of local artist Tracy Lynn Davies. For the past several years, Ms. Davies has worked from her studio on beautiful Ault Island just west of Cornwall. It was time, however, to make the move to a more visible location.
The 4,000 sq.ft. space has been renovated and is ideally situated amongst shops and restaurants.
"We want to live and work in downtown Cornwall which offers very good exposure for small businesses," says Ms. Davies. "We believe our gallery will add to the positive vibe of the city centre, and help introduce more people to the creative arts."
Cailuan Gallery will provide exhibit space for local art, most of which will also be available for sale.
"There are so many talented artists in the area, we want to help expose their talent," says Ms. Davies.
Renowned local artist Sandra Taylor Hedges will be the curator for the new gallery.
"Sandra and I have painted together for years," says Ms. Davies. "She is a mentor to me, and I'm excited that she is joining us on this project."
Ms. Davies is an accomplished artist herself, and augments her paintings with work with sculpture and jewellery.  With Cailuan, she is looking to complete the creative circle, by providing art supplies, workshop space and teaching as well as gallery space and sales.
"The Cornwall region needs a place for artists to come together, hone their skills and collaborate and make a living," says Ms. Davies. "We will be holding workshops for children and adults, as well as holding other special events throughout the year."
People are invited to drop by the new gallery on Saturday March 25.
"Cornwall is in the process of regenerating and we want to be part of that," says Ms Davies. "It is an exciting time; I love the city and its community!"
You can connect with Cailuan Gallery and Studios online at
Categorised in: News