Canada-Ontario Job Grant Available for Cornwall Companies
August 26, 2021
Cornwall Ontario – If you are an employer with a particular skills demand, and are looking to invest in your team, the Canada-Ontario Job Grant might be right for you.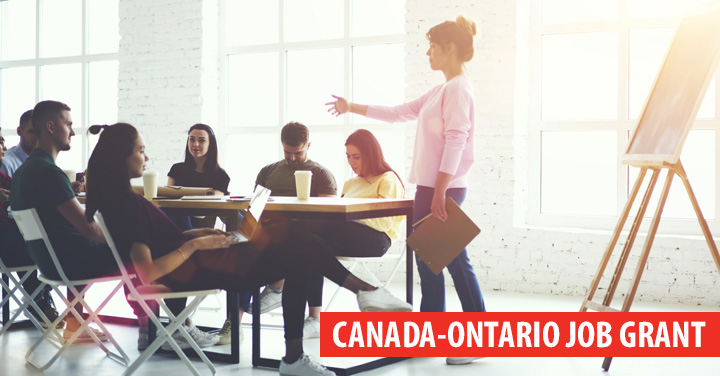 "Funding is still available for companies looking to access the Canada Ontario Job Grant," says Melissa Murphy, Employer Liaison with Job Zone d'emploi. "If you are looking to upgrade your employees' current skillset or possibly looking to train a new hire, the grant can help cover the cost."
The Canada-Ontario Job Grant (COJG) provides direct financial support to individual employers who wish to purchase training for their employees. It is available to small, medium and large businesses with a plan to deliver short-term training to existing and new employees and will:
Provide up to $10,000 for incumbent staff or up to $15,000 for new hires in government support per person for training costs
Require employers to contribute one-sixth of the total costs, or one-half; depending on the size of the employer. Employers hiring unemployed individuals may receive 100% of cost of training.
Require training to be delivered by an eligible, third-party trainer.
Program Details
The training is intended for employed individuals acquiring new skills for their current job, or to prepare for another job with the same employer, and for unemployed individuals seeking a new job. The employer must have a job available at the end of the training for the individual being trained.
Training must not exceed one year in duration and must be provided by one of the following:
Colleges of applied arts and technology
Publicly-assisted universities
School Boards
Private trainers operating in compliance with the Private Career Colleges Act, 2005
Union-Based Training centers
Funding provided by the Government of Canada and the program is  delivered by the Government of Ontario. Applications are accepted on an ongoing basis. You can access the online application here: https://www.eoss.tcu.gov.on.ca/COJG_Online/?locale=en#/COJG_Online/
More Info
More information, including assistance in completing the application, is available from Job Zone d'emploi. Contact Melissa Murphy at 613-933-9675 ext 325 or email mmurphy@jobzonedemploi.ca
About Job Zone d'emploi
Job Zone d'emploi has been providing assistance and helpful resources to employers in the City of Cornwall and counties of Stormont and Dundas for over 35 years. Job Zone d'emploi offers a variety of bilingual employment related programs and services, and is located at 144 Pitt Street in Downtown Cornwall. Information can be found on their website at: