Canada-Ontario Job Grant Available for Cornwall Companies
August 2, 2019
Cornwall Ontario – A program to help employers hire and train staff continues to be popular with Cornwall companies.
The Canada-Ontario Job Grant provides direct financial support for employers (up to $10,000 per person) who wish to purchase training for their workforce. It is available to small, medium and large businesses with a plan to deliver short-term training to existing and new employees.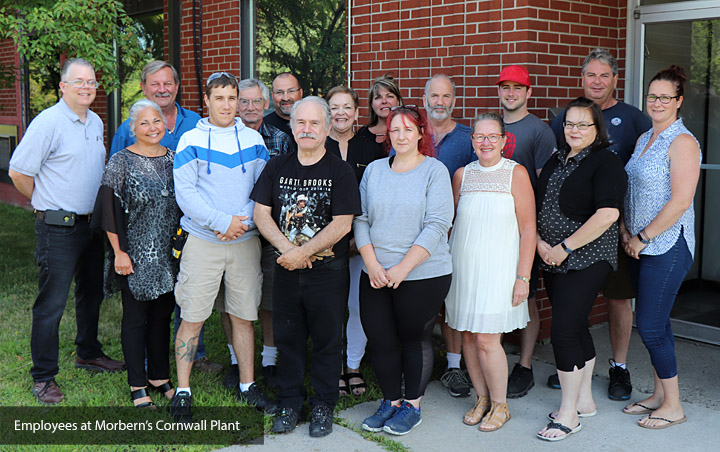 "Over 30 companies in the Cornwall region utilised the program last year, resulting in the training of over 120 individuals," said Lynn Menard, Canada-Ontario Job Grant Liaison with Job Zone d'emploi. "We are on pace to surpass those numbers this year."
One of the companies to benefit from the program is Morbern, which has recently expanded operations in the Cornwall Business Park.
"Employees are an important part of what makes Morbern a world leading manufacturer of vinyl-coated fabrics," says Caroline Dexter, Human Resources Manager for Morbern. "The Canada Ontario Job Grant helps us ensure that our workforce is well trained."
The Canada Ontario Job Grant is in its fifth year of operation. The following are highlights of the program:
Employers can get up to $10,000 in government support per person for training costs.
The training has to be delivered by an eligible, third-party trainer.
Small and medium sized businesses (1-99 employees) are only required to contribute 1/6 of the total costs
Large businesses (100 + employees) are required to contribute half of the total costs
Training for new hires is reimbursed 100%
Mileage is covered up to $500
Employers looking to learn more about the Canada-Ontario Job Grant should contact Job Zone d'emploi.
"We are happy to meet with company officials to review hiring and training needs and determine exactly which program might be best for their situation," says Ms. Menard.
Additional information is also available on the Ontario Ministry of Training, Colleges and Universities website:
About Job Zone d'emploi
Job Zone d'emploi has been providing assistance and helpful resources to employers in the City of Cornwall and counties of Stormont and Dundas for over 30 years. Job Zone d'emploi offers a variety of bilingual employment related programs and services, and is located at 144 Pitt Street in Downtown Cornwall. Information can be found on their website at: