Canadian Barge Builders Proud to Call Cornwall Home
June 12, 2019
Cornwall, Ontario – If you've noticed a barge floating down the St. Lawrence or travelling down the highway on a tractor-trailer, it was very likely made here in Cornwall by the only barge manufacturers in Canada – Canadian Barge Builders.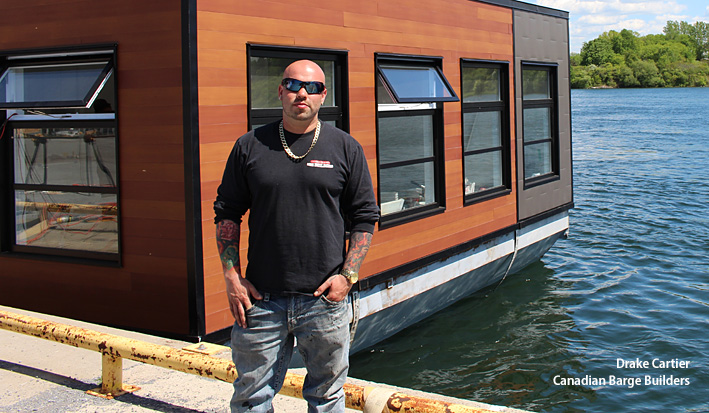 Drake Cartier, President of Canadian Barge Builders, was born and raised here in Cornwall and sees his hometown as the perfect location to operate his business.
"My love for the water started at a young age, here on the St. Lawrence," says Mr. Cartier. "Cornwall's access to the waterfront and the city's willingness to work with my company's new ideas makes my hometown a great place to operate."
Canadian Barge Builders has been in operation for just under three years now, offering a variety of barge alternatives including standard, double-stack, heavy-duty crane barges and completely custom barges.
"I started working in the water when I was 15 years old and have never wanted to do anything else. Welding and building barges is not easy work but I have a great team and we love what we do," said Mr. Cartier.
Just recently, they've ventured into the floating home market, partnering with a modular home company out of Quebec. The modular home is shipped to Cornwall where Canadian Barge Builders will complete the build on their own custom barge. The company's first floating home will be shipped to its new owners in Toronto.
"There seems to be quite a demand for floating homes," said Mr. Cartier. "Either waterfront property is too expensive, or it isn't available. Floating homes offer a nice alternative to fill that gap."
The company specializes in barges but is also available for a number of custom projects, including:
Docks
Boathouses
Retaining walls
Mobile welding jobs
Canadian Barge Builders is located at 2050 Boundary Rd in Cornwall. They can be contacted by phone at 1-866-BARGE40 (1-866-227-4340) or online at:
The above article originally appeared on BusinessEnterpriseCentre.ca. The Cornwall Business Enterprise Centre helps businesses succeed in Cornwall, Akwesasne and SD&G. If you're a small business owner looking to grow or an entrepreneur looking to start your own business, contact the Centre for free consultations, educational seminars and information about government financial assistance programs.