Canadian Broomball Championships underway in Cornwall
April 10, 2019
Cornwall Ontario – The Benson Centre has been transformed into Broomball Central this week for the 2019 Senior & Mixed National Broomball Championships.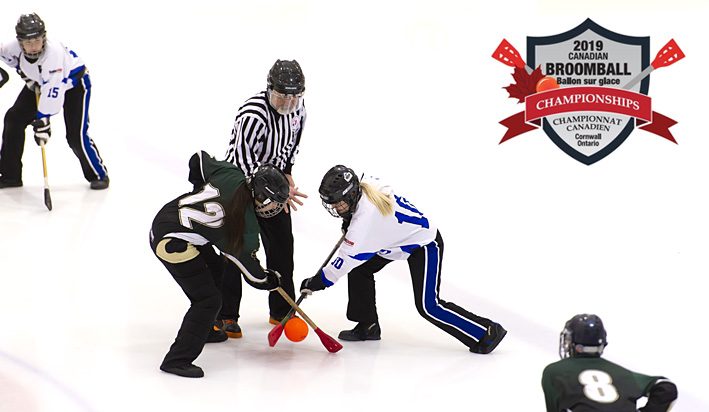 Play got underway today for the event, which will run from Wednesday through to the gold medal games on Saturday.  There are 3 categories of play, with 7 teams vying for the Elite Mens title, 6 playing for the Elite Women's title, and 6 teams competing for the title of Mixed National Champions. All told there are well over 500 players, coaches and team officials from across Canada in attendance.  Winning teams will move on to represent Canada at the world broomball championships.
"We're excited to host this national event and play in front of local broomball fans," said Sara-Lee Pynenburg, a member of the Eastern Ontario Vipers elite women's team based in Finch, a broomball hotbed. "The competition at this championship will be world-class."
Broomball is an exciting, highly competitive sport with a long history in the region. Games offer a great mix of scoring and athleticism, with an average of about 4 goals per game in both Elite divisions and over 7 goals scored in Mixed division games so far this tournament.
Game schedules and results can be found online here:
Coach Clayton Ouderkirk – who heads up the Vipers and Ballbroomers men's elite team – and other team members worked on the bid to host the senior broomball championships in Cornwall. The City of Cornwall and Cornwall Tourism also offered assistance.
"Sport tourism represents a tremendous opportunity for Cornwall. We have great sports facilities and accommodations, an ideal location and a strong track record of successfully hosting major sporting events," said Mayor Bernadette Clement. "We're looking forward to welcoming all of the teams and athletes for this event."
It's not the first time Cornwall hosts a major broomball competition. In recent years, the City has successfully hosted the senior provincial and junior national championships.
Mrs. Pynenburg said one big factor in Cornwall's favour is having the Benson Centre – the hub of action – located just blocks away from accommodations. The sport's history and continued popularity in the Finch area also provides an opportunity to build exposure for broomball in the region.
The event was awarded by the Canadian Broomball Federation, the official governing body of the sport of broomball in Canada.
About the Benson Centre
The Benson Centre is one of Cornwall's newest recreation facilities, offering three NHL-sized rinks, an indoor field house and an indoor court for tennis, pickleball and badminton along with numerous multi-purpose rooms.
The venue plays host to dozens of major events throughout the year catering to both residents and visitors.
For more information on the Benson Centre, click on the following link: