Canadian Distributor of Laptop Parts Establishes in Cornwall
August 14, 2018
Cornwall Ontario – Looking to repair or upgrade your laptop? A new business in Cornwall has the parts for you.
LaptopParts.ca specializes in the distribution and sales of computer, laptop and tablet parts and accessories. With over 3,000 active products in its database, the company has emerged as a  premiere source for all major brand parts and accessories, and boasts the largest available inventory of parts in Canada.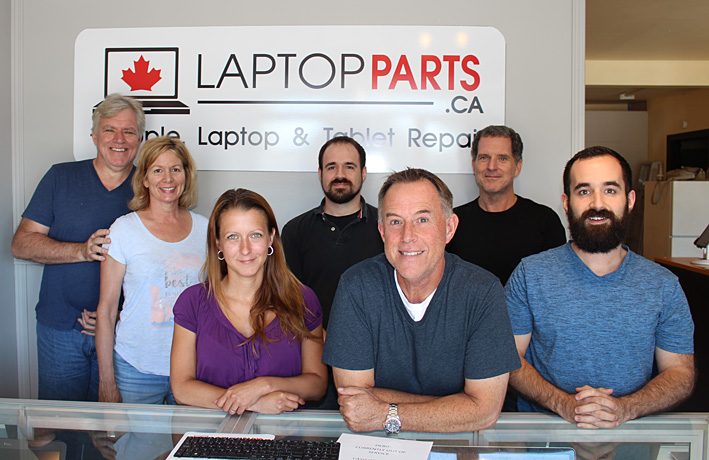 LaptopParts.ca has located in Leduc's Shopping Centre on Eleventh Street after a couple of years in nearby Alexandria. The decision to move to Cornwall was based on growing demand, but also the desire to deliver the best and fastest customer service possible.
"We moved to Cornwall for a logistical purpose," says owner Jacques Trottier. "The proximity to the United States allows us to be closer to our warehouse in Massena, allowing us to ship our products to major cities overnight."
A recent contract secured with Best Buy has enabled LaptopParts.ca to sell their parts through the chain's online marketplace, with all parts being distributed through Cornwall.
LaptopParts.ca not only sells and ships parts, but also provides repairs to computers and laptops, with same day repair being a possibility.
Company staff has over 20 years of experience in laptop repairs, including Apple products.
"Service, service, service!" says Lynn Lee, an employee with the company. "We aim to deliver a great customer experience with friendly staff and fast turnaround times on both delivery and repairs."
Increasing sales has meant that the company has had to grow its workforce. The Cornwall Campus of St. Lawrence College has proven to be good source of talent. LaptopParts.ca has hired two graduates with a third joining shortly.
"There is great local talent here," says Mr. Trottier. "Since moving to Cornwall we have grown our staff to 7 employees, we'd like to see that number double in the upcoming year."
LaptopParts.ca is located at 367 Eleventh Street East in Leduc's Shopping Centre. Store hours are 8:30am-5pm Monday thru Thursday and from 8:30am-3pm on Fridays. You can reach them by phone at 613-935-5911 or online anytime at: