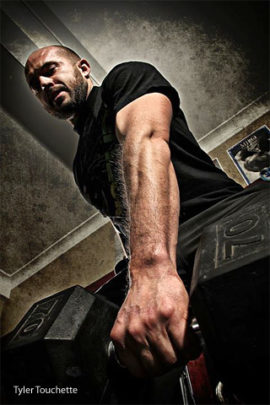 Caveman Strong Holding Open House This Saturday
December 3, 2014
Cornwall Ontario – Tucked away in the corner of 44 Pitt Street is Caveman Strong – a 6500 sq.ft. gym devoted to making the people of Cornwall feel better about themselves.
Caveman Strong is owned by Tyler Touchette. Mr. Touchette started training people 12 years ago, first establishing a small studio in his house. He opened Caveman Strong in 2010 and his clientele stared to grow significantly. In 2011 he moved to the gym to its current location, which is just a few yards away from Lamoureux Park.
"Downtown has a great vibe and we love being here," says Mr. Touchette. "We have a number of classes for all kinds of people from seniors to kids – and being able to run and work outside along the river is fantastic."
Open House and Trunk Show
This Saturday, Caveman Strong will be hosting lululemon athletica at the gym from 9am to 1pm. Visitors can browse the famous retailer's offerings and also take in some classes as follows:
8:30-10 general programming
10-11 stretch class
11-12 Yoga with Jenn Torrance
12-1 Dance intro with Amanda Louise Marini-Rohde
Snacks will also be provided by the Mindful Cookery & Food Market.
Commitment to Excellence
Mr. Touchette is joined at the gym by five additional coaches who have completed a stringent internship as well several training courses.
"We pride ourselves on having the best coaches in the country. Not just Cornwall," says Mr. Touchette.
Mr. Touchette's vision is to teach people the importance of proper movement, with the ultimate goal of having people moving as they age and move into their senior years. The benefits of exercise he argues are feeling good and having lots of energy.
"It's about being humble, addressing your weaknesses and working on them with a qualified professional," says Mr. Touchette. "Prioritize your efforts. If food is the weakest point then start there. If it's a sore shoulder then start there. Our job is to help the individual find and destroy these weaknesses."
Caveman Strong's approach is to combine group fitness classes with personal coaching. Participants get the social benefits of being in a group with support and encouragement from others, yet the coaches also take the time to offer personal instruction. If a couch sees a problem such as incorrect technique or a postural issue – they take the time to show the person how to correct it.
"Nobody will advance in their journey to better health without proper coaching," says Mr. Touchette. "We all need feedback and we all need direction."
Mr. Touchette has had some successes. Together with Kyle Piche he runs the Cornwall Weight Lifting Club which has developed some of the country's top youth lifters, including Kelly McGillis who has won multiple competitions over last 2 years. With growing demand for his services, Mr. Touchette has also recently opened a second gym in Ottawa called Human 2.0.
"Our methods are proven to be effective for the serious athlete as well as somebody who just wants to feel better about themselves," says Mr. Touchette. "People want to move! They want to feel better and we're here to help."
You can learn more about Caveman Strong online:
Photo courtesy of Jason McNamara of Framed Photography.