Caveman Strong Opens New Location
November 2, 2018
Cornwall Ontario – Caveman Strong is out of the cave… and into bright new premises on Water Street.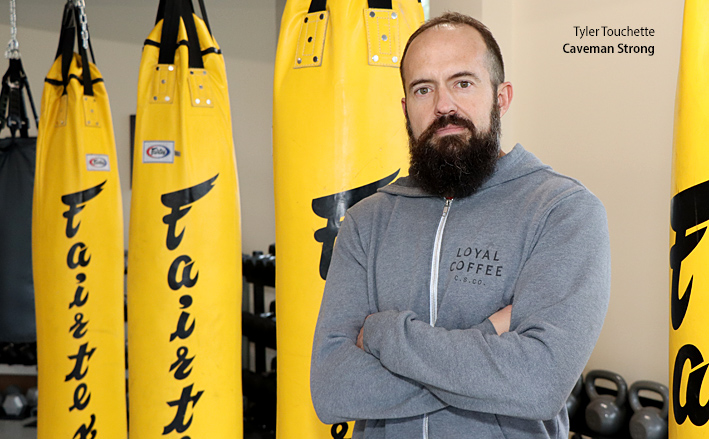 The well established gym has moved a couple of blocks east and now offers 4,000 sq.ft. of freshly renovated workout space that features a lot of natural light – courtesy of a wall of large windows that look south to the St. Lawrence River.
"Our members love the new space – it is more accessible and is a better fit for our vision," says Tyler Touchette, owner of Caveman Strong. "Our previous location was out of sight, and a bit dark, so we are definitely looking forward to a higher profile on Cornwall's cityscape."
Caveman Strong was started 10 years ago by Mr. Touchette after he had worked as a personal trainer for 6 years. The gym has 200 loyal members and distinguishes itself from others with its balanced approach to guided fitness.
"Everyone at Caveman works out under the watchful eye of a trainer," says Mr. Touchette. "We are more than simply making machines available – we emphasis proper technique with a goal to increased mobility."
Mr. Touchette notes that his clients tend to be a little bit older, and have personal goals of improving their overall health rather than breaking weightlifting records.
"I ask my clients how they want to move when they are 70 years old. If you want an active independent lifestyle when you retire, now is the time to make changes."
This rounded approach to wellness includes proper nutrition and eating healthy. Kylie Jurchuk, a registered holistic nutrionist with offices at Caveman, is available to offer advice and guidance.
To celebrate the new location, Caveman Strong is offering free 15-minute evaluations during the month of November.
"We can give you a quick assessment of where you are at right now and help design a workout plan that is personalized to your needs."
About Caveman Strong
Caveman Strong is located at 237 Water Street and is a community of like minded individuals who come together to better themselves through movement, mindfulness, and education. The gym is open six days a week. You can learn more online: