Centex Pumped to Be in Cornwall
October 25, 2021
Cornwall Ontario – There's a new place to fuel up on Brookdale Avenue with the recent opening of the first Centex gas station in Eastern Ontario.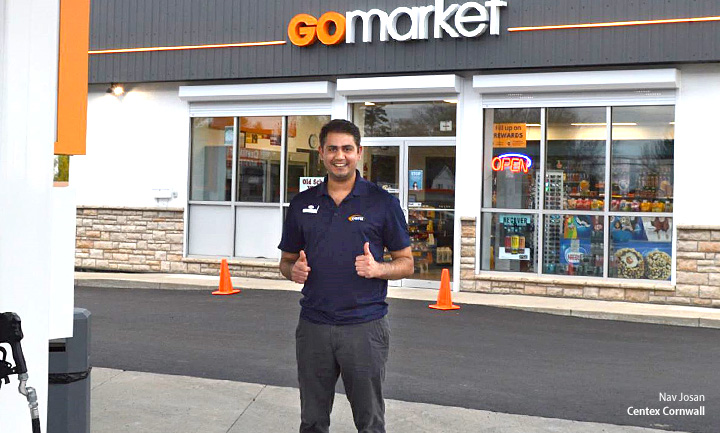 The six-pump gas station and convenience store opened earlier this month, and Owner-Operator Nav Josan is confident to offer a product and service that he feels will become a recognized brand.
"We sell quality gas at competitive prices," says Mr. Josan. "We are proud to be part of a 100% Canadian-owned company that provides confidence to our customers through quality fuels."
Mr. Josan moved to Cornwall from Victoria a year ago. He has an entrepreneurial background and a master's degree in Business, and recognized that it would be an excellent opportunity to own a gas station on such a main Cornwall thoroughfare. Centex is his first solo business venture.
Centex's roots began in Western Canada in 1986 and the company is now transitioning east, opening locations across Ontario.  All of the fuels are refined and processed by major Western Canadian refiners, and they sell the same higher octane premium or super fuel as the other major retailers. In addition, the gas bar offers weekly promotional pricing with savings off the poster price.
The efficient Go Market stocks everyday necessities including soft drinks, specialty beverages, snack foods and confectionery items, and has an in-store ATM for customer convenience.
Mr. Josan explains the benefits of being 100% independent and the full autonomy that gives him when making decisions for the business.
"Our strength is that we recognize other small businesses by selling their products in our store," he says. "We are not tied to promoting a certain brand or have obligations to any one supplier, so we can stock what our Cornwall customers want to buy."
Customers signing up for the Centex loyalty program can earn 1c per litre of gas at the pump and 2c on every dollar spent in store.
"Our loyalty program is slightly different from other gas bars,"  says Mr. Josan. "We are fully transparent with our program by offering our customers' cents accumulation on the dollar rather than points. This makes it easier for customers to track exactly what they have earned."
Mr. Josan and his team look forward to serving Cornwall customers and those travelling through the community.
Centex is located at 1230 Brookdale Avenue. Business hours are 5am to 11pm Monday to Friday and 6am to 10pm Saturday and Sunday. You can reach them by phone 613-930-2085 or  online at: