Chesley's Inn named Eastern Ontario's Best Bicycle Friendly Business
May 29, 2020
Cornwall Ontario – Chesley's Inn in Downtown Cornwall has the distinction of being Ontario's oldest inn. It now also has the distinction of being Eastern Ontario's best cycle-friendly business.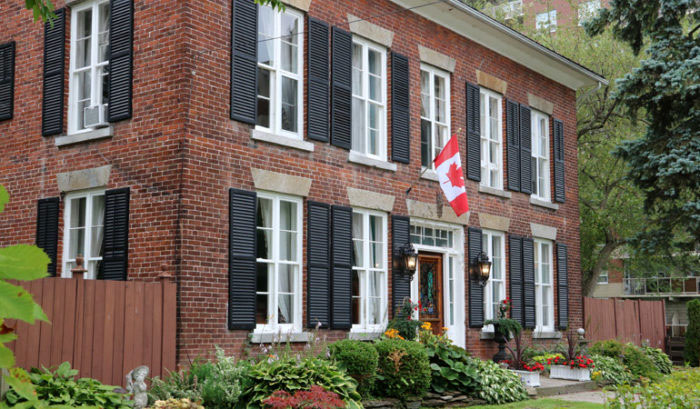 The historic Cornwall establishment has been given the Best Bicycle Friendly Business award for 2020 by Ontario by Bike, a project dedicated to promoting and developing cycle tourism in the province.
Ontario by Bike selected one winner for every Regional Tourism Organization (RTO) area in the province. Chesley's Inn was the recipient for RTO 9, a region which covers much of Eastern Ontario, from the Quebec border west to Prince Edward County.
"It's pretty fantastic," said Chesley's Inn owner and Innkeeper Robert Prowse of the award. "I get an awful lot of cyclists through here. It's a way to see the country in a different way."
Ontario by Bike said the winning businesses were selected "for their efforts in and excelling at providing services and a welcome to cyclists visiting their locations as well as supporting cycling within their community."
For Prowse, those cyclists come from all over Ontario, Quebec, the United States and other parts of the world. The on-site bike lock up and proximity to Downtown restaurants and the celebrated Waterfront Trail makes the Inn a popular stop for cyclists.
"This (section of the Waterfront Trail) is a very popular route, the whole path here. So much of it is off-road which makes people, particularly older cyclists, feel much more secure," he added.
Despite the challenges presented by the COVID-19 pandemic, Prowse is optimistic about the future of cycle tourism in Cornwall. Like many other local accommodations, Chesley's Inn has increased its safety and cleaning standards in response to the pandemic and Prowse is eager to once again welcome visiting cyclists once they feel safe peddling in to the historic establishment.
"Have a staycation, get in that car and do a little road trip and come and see us," he added.
History in the heart of the city
Cornwall's Chesley's Inn is truly a one-of-a-kind property. It has historic charm – it is Ontario's oldest Inn, having been built in 1814. And unlike many other Inns, it has a distinct urban vibe, being located in the heart of Downtown Cornwall, just steps away from the main street and its restaurants, shops and galleries.
Chesley's Inn was built in 1814 by Alsaints Chesley, one of three brothers from New York State who all fought on the Revolutionary side during the American War of Independence. He brought his family to Cornwall in 1800 where he seems to have had a change of heart as he and his sons fought on the Canadian side during the War of 1812.
Popular local legend has it that Charles Dickens spent a night when he passed through Cornwall during his 1840's tour of the Americas.
The Inn has four beautifully-appointed rooms along with common rooms and a beautiful private garden. Customers can enjoy breakfasts featuring fresh ground coffee and in-season local foods.
For more information, please visit the Chesley's Inn website or check them out on Facebook.
About Ontario By Bike
The Ontario By Bike Network develops and promotes cycle tourism in Ontario, through a variety of efforts, inspiring visitors and residents to explore more of the beautiful province by bike.
With over 1,400 certified bicycle friendly locations in Ontario, cyclists will can access day trip or multi day self-guided itineraries, dozens of cycling maps as well as trips ideas and transportation options throughout the province.
Visit bicycle friendly accommodations, restaurants, cafes, wineries, breweries, attractions, bike stores, bike tours and rental locations that all offer cyclists extra services and amenities, creating a positive experience and fueling your desire to get back on the saddle to explore more of Ontario by bike.
For more information, visit the Ontario By Bike website.