Christmas Store Opens in Cornwall Square
November 3, 2021
Cornwall Ontario – A new seasonal Christmas shop has added plenty of holiday cheer to the Cornwall Square.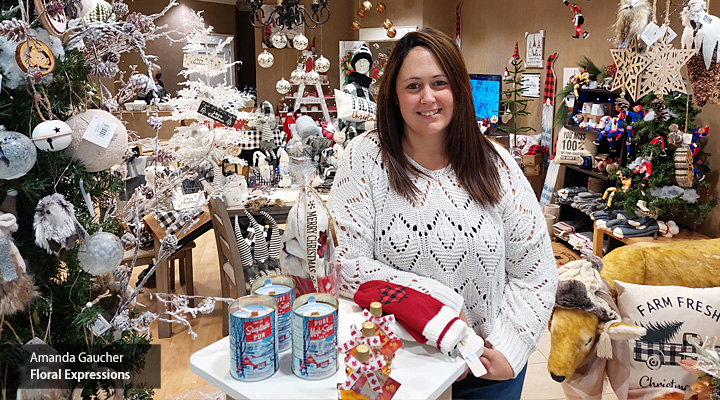 The Floral Expressions Christmas Store has opened its doors on the first floor of the Downtown Cornwall shopping centre, offering a wide variety of holiday-themed decor, decorations and other festive finds that are sure to satisfy any Christmas lover.
"We did a pop-up Christmas store a couple of years ago in the Cornwall Square and it was really well-received," said Amanda Gaucher, owner of Floral Expressions. "I've always carried a selection of Christmas items in my main store on Pitt Street but I decided to go bigger and offer even more for the holiday season."
The beautifully-decorated store will be open throughout November and December and shoppers can expect to see everything Christmas – from special decorations to top the tree to unique gifts to place under it. The store even has a children's area with a TV – showing Christmas movies of course – to keep the children entertained while parents explore the store.
"Of course, Christmas is a special time for everyone and we're happy to be a small part of that special experience for families," Gaucher added.
On Saturday, November 27th, Gaucher is bringing back her popular Kid Shopping Day, a day in which the store is off-limits to parents while the children do some shopping of their own.
In addition to the seasonal store, Floral Expressions remains open at its Pitt Street location with its great mix of of flowers, goodies, gifts, home decor.
Additional information
The Floral Expressions Christmas Store is open during mall hours – 9:30 am to 7 pm on Mondays to Fridays, 9:30 am to 5:30 pm on Saturdays and 11 am to 5 pm on Sundays.
About Floral Expressions
Floral Expressions is locally owned and operated by Amanda Gaucher, who has a background in business and floral design. The cozy boutique is located at 516 Pitt Street and is open 6 days a week from 9:30am to 5:30pm. You can find more info online: