Christmas-themed T-Shirts Promote Local Shopping
December 19, 2019
Choose Cornwall – Local residents and businesses have banded together to highlight just how special local merchants are in a Christmas-themed t-shirt.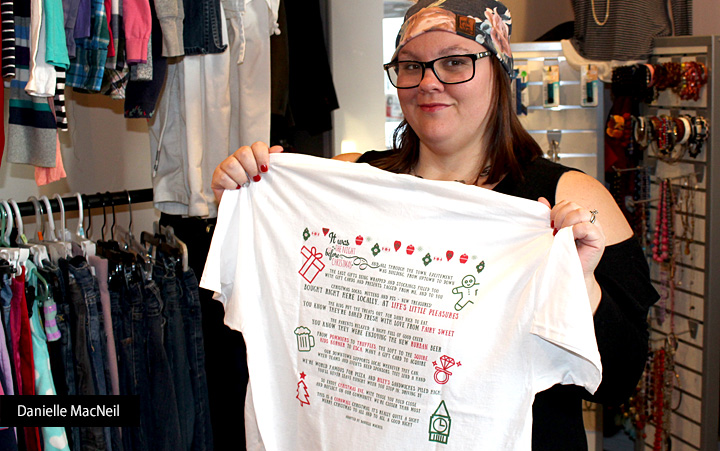 The shirts feature a 'reimagining' of the famous poem "Twas the night before Christmas" by Danielle MacNeil, a public educator and volunteer coordinator at the Baldwin House. Recently, Ms. MacNeil saw a negative post she had seen on Facebook, and her response was to write a poem.  The poem shines a positive light on some of the many fabulous downtown shopping options available to the population.
"I love our city and our community and when I see something negative, I try and go out of my way to counter it," says Ms. MacNeil. "I'm a big promoter of positivity in our city."
Louise Gendron, owner of Studio 101 teamed up with Danielle and local print broker VersaCore Tech Designs to produce 20 t-shirts. The shirts immediately proved popular with shoppers and merchants alike.
"Of course, we are aware that not all the wonderful downtown businesses are mentioned in the poem", says Julia Lucio, owner at VersaCore, "but the point was to simply show people how lucky we are to HAVE so much, and more, to choose from in Cornwall.  It's a beautiful thing!  There are way too many options to fit on one shirt! VersaCore will be happy to customize shirts to reflect ANY of the local businesses, downtown or not, at any company's request."
The t-shirts are available for $20 and can be picked up at Salon  101 on online at Versacoretechdesigns.com.  $5 from each shirt will be donated to Maison Baldwin.