Cirque du Soleil Premieres AXEL in Cornwall
October 4, 2019
Cornwall Ontario – Cirque du Soleil performers will step on the ice Friday at the Cornwall Civic Complex for the highly-anticipated premiere of their magical new production, AXEL.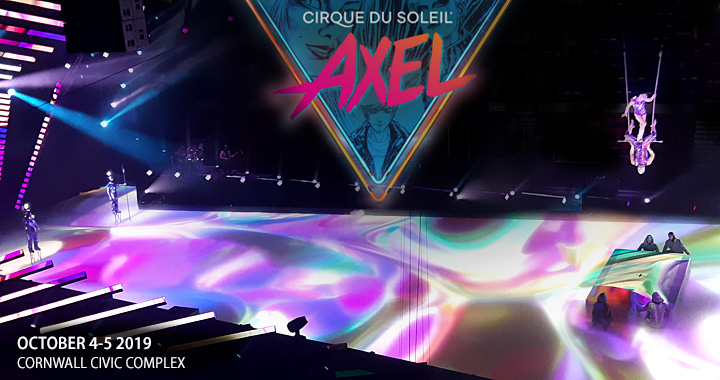 But for the talented Cirque performers, it won't be their first time on the ice in Cornwall.
The famed entertainment company has been in the City for the past three weeks fine-tuning and rehearsing the new on-ice production before premiering in Cornwall and embarking on an extensive North American tour.
The entire production and performance crew – sometimes numbering as many as 150 – have taken up temporary residence in Cornwall, splitting their time between the host venue for AXEL and the NAV Centre, for downtime.
The production took over practically every available square foot of space inside the Civic Complex. The hockey glass, boards and video score clock were temporarily taken down to make way for the massive rigging and production backdrop. Second level meeting space became makeshift offices while dressing rooms became the wardrobe and makeup sections. The lower-level salons served as common areas and catering space, with the employees often drifting out into scenic Lamoureux Park on sunny days for breaks and lunches.
But the impact of Cirque's stay extended much further than the Civic Complex. It wasn't unusual for Cirque members (often in familiar grey AXEL hoodies) to be spotted doing some shopping or grabbing a coffee or a bite to eat at a Downtown shop or restaurant. Some employees took advantage of the area's beautiful golf courses to work on their swing in their downtime. Cornwall Transit set up a special route to shuttle Cirque employees between the Civic Complex and NAV Centre. Cornwall Tourism provided some old-fashioned hospitality by organizing a couple of off-day outings for Cirque employees – one featuring Riverside pizza and bowling and the other a visit to Rurban Brewing, Historic SDG Jail and a social at Truffles Burger Bar.
"The economic spin-off is amazing," said Janice Robinson, Facilities Rental Coordinator with the City of Cornwall. "We're so excited to have Cirque du Soleil here. It's been three years in the making. These people (with Cirque) are coming from all over the world. They are eating and staying here and again the community is benefitting."
As much as Cornwall has enjoyed hosting Cirque du Soleil, it appears the benefits of the relationship have been mutual.
"The city is very accommodating. Working here all of our needs are more than taken care of and we're not very far from (headquarters in) Montreal," said Associate Company Manager Ian Waldman, one of the many AXEL Cirque employees who has been based in Cornwall.
The Cornwall Civic Complex has also proven to be an excellent training ground for the new show, which is Cirque's second such on-ice production.
"The good thing about a venue like this is you get a more intimate view of the show," he said. "There's no bad seat here. We're very glad to have our first one (show) here."
Following a few private rehearsals over the past week, the doors will officially open Friday night and AXEL will be showcased to the world. The Friday evening show (7:30 pm) will be followed by more two more shows on Saturday, at 3:30 pm and 7:30 pm.
Robinson, for one, is hoping it's the first act of a much larger production.
"Cirque has become like family and we really hope we can work with them again in the near future," she added.
Ticket information
Tickets for the Cirque du Soleil AXEL shows in Cornwall can be purchased in person at the Civic Complex Box Office (100 Water Street East) right up until showtime.
You can also purchase tickets online at TicketPro.
About AXEL
Spectacular skating, breathtaking acrobatics, live music and stunning graphics – It's waiting for you in an all new ice spectacle: Cirque du Soleil AXEL.
Join Axel and his adrenaline-fueled crew on an exhilarating adventure as his passion for music and graphic arts takes you on an electrifying journey.
See sparks fly as Axel falls for the captivating Lei. Together they jet off on a fast-moving quest through fantastic and colorful worlds to retrieve the stolen light from the mystical Vi. Will Axel find his voice and fulfill his destiny?
For more information on AXEL, please click here.
About Cornwall Civic Complex
Situated in scenic Lamoureux Park on the banks of the St. Lawrence River, the Cornwall Civic Complex is a highly versatile and modern facility. The heart of the Civic Complex is the Ed Lumley Arena, a modern ice rink that boasts seating for up to 5,800 people for concerts and special events.
The Civic Complex has hosted a number of special events in recent years such as the World Junior Exhibition Game, RBC Cup National Junior A Hockey Championship and concerts by Nickelback, Great Big Sea, Alice Cooper and Blue Rodeo.