City Looking for Feedback on Draft Recreation Master Plan
February 8, 2021
Cornwall Ontario – The City of Cornwall is updating its Recreation Master Plan and City staff are looking for feedback from local residents and stakeholders.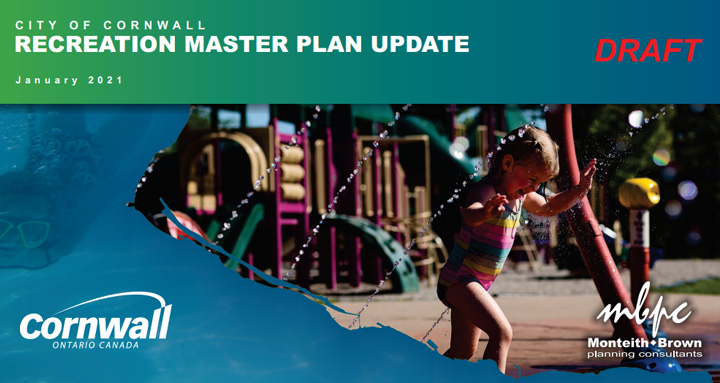 The Recreation Master Plan seeks to identify community priorities for parks and recreation services over the next ten years. For nearly a year, the project team has been meeting with key partners, engaging residents, and assessing current facilities and programs to develop draft document. The draft plan is now ready for review and feedback via a virtual open house and online survey.
"Hearing from the community at this stage is critical," said Jamie Fawthrop, Manager of Recreation & Facilities. "We want to ensure the plan reflects what our residents need. With only 3 questions to answer, the survey should take less than 10 minutes to complete."
Have Your Say
Click on the following links to participate in the review:
Residents can also email recmasterplan@cornwall.ca with input. Comments and survey responses will be accepted until March 7.
About the Recreation Master Plan
Regular planning is required to ensure that recreation and parks services respond to current and emerging needs, ensuring that residents continue to have opportunities to be healthy, active, and engaged. The City of Cornwall last undertook a comprehensive examination of needs in 2009 and the Recreation Master Plan at that time laid the groundwork for several significant achievements, such as development of the Benson Centre, improvements to Lamoureux Park, and extensions to the recreational pathway. This Master Plan Update provides the City with a forward-thinking public policy framework to successfully manage its parks, open spaces, programs, events, facilities and amenities in a cost-effective manner for
the next ten years.
This updated plan contains priorities and goals for the provision of recreation programs, facilities and parks to the year 2030 and is informed by a longer-term outlook for major capital projects (to 2037). It builds on the Master Plan prepared in 2009, aligns with Council's strategic priorities, and will be implemented in conjunction with the City's Official Plan, Waterfront Plan, and other related studies.
The Master Plan will explore topic areas including:
More info is available on the City website .