College Offering Home Support Worker Program
March 20, 2019
Cornwall Ontario – There are still spots available in a new course offering from St. Lawrence College.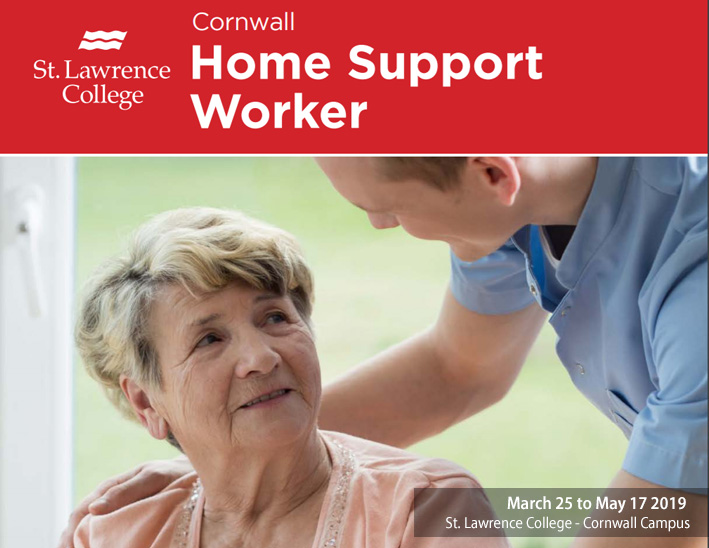 St. Lawrence College is presenting a 20 week Home Support Worker Program to help people prepare for employment in the health care sector. The program has been organized by the Eastern Ontario Training Board.
"As our population ages more and more people require additional care and support at home," says Glenna Schaillee, Manager, Community Outreach and Corporate Learning with St. Lawrence College. "Job prospects in the health care field are quite good, with a a number of local companies currently looking to fill open positions."
The program runs March 25 to May 17 2019 at the Cornwall Campus of St. Lawrence College.
"There is still room for more students," notes Ms. Schaillee. "People who want to work but feel that they are lacking skills, education or experience are ideal candidates."
Participants will graduate with a clear understanding of the Home Support Worker role as a member of the health care team and training in the following areas:
Foundational Concepts
Communication
Personal Care
Food Handlers Certification
Non Crisis Intervention
First AID/CPR
Mental Health First Aid
Gentle Persuasive Approaches
Safety Training
Employability Skills
Upon completion of the 8 week in-class portion of the Home Support Worker Program, students will be placed on a 12 week paid job placement.
Funding may be available to cover tuition and transportation, along with support for daycare, through Service Canada's Opportunities Fund (Skills For Employment).  If you self identify as having a physical or mental disability and not receiving EI, you may be eligible to apply.
To see if you qualify, please contact  Job Zone d'emploi 144 Pitt Street, Cornwall, 613-933-9675
About the Eastern Ontario Training Board
The Eastern Ontario Training Board (EOTB) was established to play a leading role in labour force development. It undertakes a number of projects throughout the year, and publishes the TOP report on local labour force issues. More info can be found online:
About St. Lawrence College
Located along the shores of the St. Lawrence River, St. Lawrence has College has three campuses in Brockville, Cornwall and Kingston. The College boasts 6,500 full-time students from Canada, and more than 40 countries worldwide. The SLC college community includes 20,000 part-time students, 1,000 staff, and more than 70,000 alumni. The college has recently invested in the development of Applied Research and the revitalization of its campuses.
You can find out more information on the St. Lawrence College website: