Community Economic Development Workshop Planned for March
February 4, 2019
Cornwall Ontario – A workshop is being organized to help local municipal elected officials and community volunteers better understand community economic development.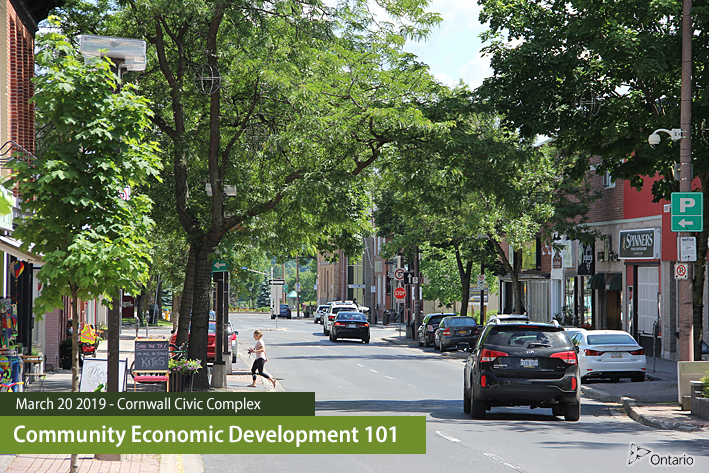 Entitled Community Economic Development 101, the workshop is being put on by the Ontario Ministry of Agriculture, Food and Rural Affairs (OMAFRA) and will be held March 20th at the Cornwall Civic Complex.
"The workshop is meant to offer participants practical tools that can be put to use in making economic development decisions," says Katie Nolan, Agriculture and Rural Economic Development Advisor with the OMAFRA office in Kemptville. "It will provide a primer on how CED works in small rural communities, roles of councils, staff and community members, examples of successful initiatives, and how to plan a strong and effective economic development program with existing resources."
Community Economic Development (CED) is a term used to describe the process of fostering an environment that results in the creation of wealth and well-being for the benefit of the entire community. The following topics will be covered during the workshop:
What CED is and why it is important to your community
The value of planning in your community
Collaborative roles of individuals and organizations
Tools and resources that are available and how they assist you
OMAFRA has historically offered the CED 101 seminars in the weeks and months following a municipal election. There are 10 sessions scheduled this spring, in locations from Collingwood to Cornwall.
The Cornwall session will be held March 20th from 9:00 to Noon at the Cornwall Civic Complex and is expected to attract councillors, staff and community members from Cornwall, Stormont, Dundas & Glengarry, Akwesasne and beyond. There is no cost to attend, however participants are asked to register in advance.
Additional details are available from OMAFRA by calling 1-877-424-1300 or email ag.info.omafra@ontario.ca.  You can register online using the following link:
Related Information
The City of Cornwall has long maintained an Economic Development Strategic Plan. The most recent version of the plan was adopted in 2016. A copy can be downloaded from the Resources section of this website.