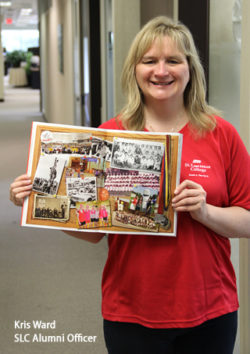 Alumni Days – Celebrating 50 Years at SLC
May 26, 2017
Cornwall Ontario – St. Lawrence College is inviting all grads and retirees to 50th Anniversary Celebrations on each campus.
The Alumni Days Celebration takes place in Cornwall on July 8th.
"We are inviting our Alumni to visit their old, haunts, bring their kids (or grandkids) and gather the old gang to renew friendships, reminisce and hopefully stay for the weekend, says Kris Ward, Alumni Officer.  "Many of our grads have not been back to Cornwall in over 30 or 40 years, and for others…Cornwall will always be home."
St. Lawrence College first opened its doors to students in 1967. 50 years later, over 88,000 people have graduated, including 20,000 from the Cornwall Campus.
The College has planned a full day of events and activities for the Cornwall Campus. Below are the highlights:
Alumni Days – Saturday July 8
Yoga Morning Stretch – 9:am-10:30am 
Join your fellow grads for a rejuvenating morning of yoga and meditation by the picturesque St. Lawrence River.
Cornwall's Kyle Pichie will be the instructor. He's an SLC Fitness and Health Promotion grad!
Alumni Family Picnic & BBQ: 11am-4pm
Join your fellow alumni and their families as we celebrate 50 years of memories.  With an inflatable midway, giant slide and fun activities for all ages, this will be a great time to reflect on past years, catch up with former classmates and faculty and enjoy activities at your campus. Listen to great music from the past 50 years and tour the campus to see the changes that have taken place on your old stomping grounds.
Inflatable midway for the young and young-at-heart
Free BBQ
50th photo booth
"Bring your Thing" Pop up Museum of SLC memorabilia
Campus self-tours
Special gift for our SLC Sweethearts
Classic Car Show-featuring Cornwall Olde Car Club
Top 40 Music from the past 50 years DJ'd by Cornwall SLC grad Stacy McPhail
And more to come…
Outdoor Pub & Concert featuring: 7pm-11pm
Nashville recording artist Kyle Dunn (Mechanical Engineering 2010)
102.1 Edge Next Big Thing winners JJ and the Pillars (featuring JJ Thompson – Music Theatre 2011)
Sing it! Bring it! A fun Karaoke of the songs from your grad years.
"Why not plan a reunion with your classmates and gather together at Alumni Day?" says Kris Ward.  "We've already planned something for the kids to do, and there's a pub where you can meet up. The hard work will be done – you just have to invite 'the old gang'!"
You can learn more by visiting the following pages:
More information on the 50th Anniversary of St. Lawrence College can be found in the 2017 edition of Cornwall Living magazine. Fill out the Request Info form on this website to request a copy of the magazine.
Categorised in: Community