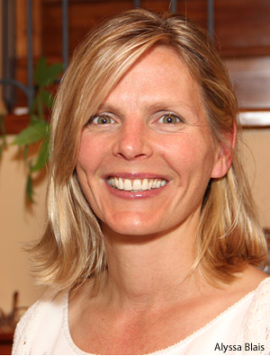 Alyssa Blais Selected To Participate In Leadership Institute
March 19, 2014
Cornwall Ontario – Cornwall's Alyssa Blais has been selected to participate in the Canadian Women's Foundation Leadership Institute. The tap on the shoulder is a recongition that Ms. Blais is considered by the Foundation to be an emerging female leader in Canada.
The Leadership Institute builds the leadership capacity of emerging and mid-career women leaders working on community economic development issues in the women's charitable and non-profit sectors across the country. The program is delivered by the Coady Institute, which is a world-renowned centre of excellence in community-based development and leadership education. The Institute works with innovative people and organizations to create effective, practical and sustainable solutions to reduce global poverty and injustice.
"This is a very exhilarating opportunity for me and am honoured to be chosen" said Alyssa Blais. "The information gained from the Canadian Women's Foundation Leadership Institute will empower me to lead social change and assist me in creating the kind of community that is socially just and fair for all citizens alike."
Ms. Blais is the Executive Director of The Agapè Centre in Cornwall. She is also the founder of Politgal, an organization that was formed to encourage more female participation in politics.
"The Canadian Women's Foundation is thrilled to provide the one year women-centred leadership training to emerging women leaders," said Chanel Grenaway, Director of Economic Development Programs at the Canadian Women's Foundation. "Strong leaders build strong organizations and communities, and we are thrilled to work with a group of extraordinary women who have and will continue to create positive change for women across Canada."
About Alyssa Blais
As Executive Director of Cornwall's largest hunger relief organization, The Agapè Centre, Alyssa has dedicated herself to reducing the impact poverty has on the community. Prior to accepting her position at The Agapè Centre, Alyssa applied her business sense as a Small Business Manager at Cornwall Economic Development. She is also a director of Aultsville Theatre, resolutions chair for the Cornwall Canadian Federation of University Women (CFUW), a member of the Culture Plan Committee for the City of Cornwall, and a member fo Team Cornwall.
More info: www.agapecentre.ca
About the Canadian Women's Foundation
The Canadian Women's Foundation works to empower women and girls in Canada to move out of violence, out of poverty and into confidence. Since 1991, the organization has invested in over 1,200 community programs across Canada, and is now one of the ten largest women's foundations in the world.  For more information please visit www.canadianwomen.org