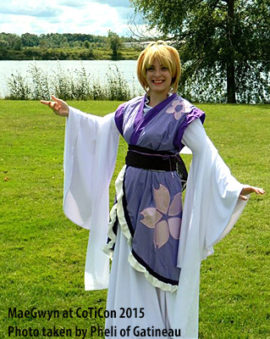 Annual CoTiCon Bigger Than Ever
August 8, 2016
Cornwall, Ontario – Cornwall's third annual CoTiCon is bigger than ever, and with a full day of activities planned, attendees are encouraged to dress up in their favorite costumes and join in on the fun taking place on Saturday, August 20th.
CoTiCon is Cornwall's only convention for anime, comic and geek culture enthusiasts. First created in 2014, the convention features exhibits, vendors, artists, cosplaying activities and events, gaming competitions, costume workshops, and so much more!
This year marks the 20-year anniversary of Pokémon and the 30-year anniversary of the Legend of Zelda, and CoTiCon organizer Annie DeRochie means to celebrate with more fun-filled, team-oriented, free activities for cosplay and geek culture enthusiasts alike.
"New items being offered at CoTicon 2016 are celebrations of milestone anniversaries of Pokémon and the Legend of Zelda," said DeRochie.  "We have an actual hands-on workshop on armour making and lots of contests for participants to enjoy."
To join in on the celebration, convention attendees can participate in a number of Pokémon- and Zelda -themed events, including the Pokémon-themed Pageant, Twister Game, and Card Exchange, and the Zelda-themed Jeopardy Game, Master Sword Challenge and Quest.
In addition to the themed events, CoTiCon will also be featuring the attendees' favorites, including the Super Smash Bros. Tournament and the Costumed Masquerade.
Costume making enthusiasts will also have the chance to improve their technique with a Q&A panel featuring cosplay guests NailoSyanodel, Peekaboo Cosplay, and CatsLuna. There will also be a headgear workshop led by MNC Props.
Other special guests include the Doctor Who Society of Canada and the Ottawa City Garrison 501st Legion from Star Wars.
CoTiCon had originally begun as part of the Cornwall Business Enterprise Centre (CBEC) Summer Company youth entrepreneurial program. The program, which provides students the opportunity to start and operate their own business during the summer months, helped DeRochie start the convention that keeps growing more popular each year.
New this year, CoTiCon will be partnering with Cornwall Food Fest, the city's vibrant food festival taking place the very same day in the downtown core. CoTiCon will be performing a parade of costumed individuals through Food Fest at 11:00 am.
"Our partnership with Beyond 21's Food Fest is a great fit providing participants an opportunity to venture into the heart of the city and enjoy some great food.  Beyond 21 is a very worthwhile not-for-profit group to support and CoTiCon is very pleased to be involved in a fundraiser for them."
CoTiCon will be taking place on Saturday, August 20th from 10:00 am to 6:00 pm at the Cornwall Civic Complex. Tickets are $20 for the day and provide access to most events on site. For more information, please visit the following websites:
Categorised in: Community