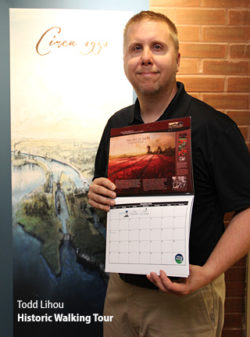 Calendar Boosts Historic Walking Tour
November 6, 2017
Cornwall Ontario – For the second year in a row Cornwall's history is being immortalized in time for the holidays.
The popular Cornwall Historic Walking Tour is the subject of a new 13-month calendar. Each month features a different plaque from the downtown section of the walking tour, which was unveiled earlier this year.
The calendar features the artwork of renowned Cornwall artist Pierre Giroux and brings to life historical scenes from Cornwall's past, including the Cornwallis Hotel, the Capitol Theatre, the Rossmore House and New York Cafe.
Local historian Lily Worrall completed much of the research that went into the illustrations.
"The Walking Tour has been universally welcomed by local residents and visitors to our city who have told us they appreciate our dedication to local history and local art," said Todd Lihou, Centretown Coordinator. "Now people can celebrate the holidays with a gift that is steeped in Cornwall's proud heritage."
Proceeds from the sale of the calendar will be re-invested in the walking tour project, to help expand it in 2018. Calendars are being sold for $20 and are available at the following locations:
Cornwall Civic Complex
Dubuc Eye Care
Cornwall Chamber of Commerce
About the Historic Walking Tour
The Historic Walking Tour is comprised of 30 plaques featuring colourful illustrations of historic scenes from Cornwall's past. Individually each plaque is impressive, yet together they form a tapestry that weaves throughout the City.
The plaques can be found in the Downtown Shopping District, Le Village and the Waterfront.
Tour Map
Click on the following link to see a complete list of plaques and to download a map of the tour:
Categorised in: Community