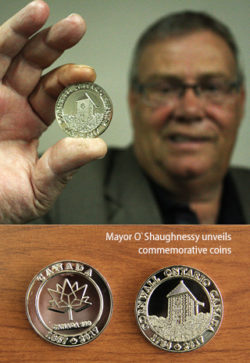 Canada 150 Celebrated with Commemorative Cornwall Coin
June 13, 2017
Cornwall Ontario – Canada's sesquicentennial is being marked with a special commemorative coin.
The attractive nickel-plated coin features the Canada 150 logo on one side, with the words Canada 1867-2017 along the outside. The flip side of the coin features the Clock Tower in Lamoureux Park, with the words Cornwall Ontario Canada 1784-2017.
"The coins are an excellent souvenir to mark this important anniversary," says Mayor Leslie O'Shaughnessy. "Cornwall is proud to have played a role in the formation and development of our country."
The limited edition coins are available from Cornwall Economic Development at the Civic Complex. The cost is a penny per year of confederation, or in other words, $1.50.
Several dozen of the coins are already on their way on an epic journey aboard Canada C3, the nautical journey to explore the three coasts of Canada. More will also be distributed through geo-caches in the area.
"By attaching a registered tag to the coin, we can track the coin's journey as it moves from geo-cache to geo-cache around the world," says Peter Gault, Chair of Team Cornwall and an avid geo-cacher. "Team Cornwall ambassadors will also be taking the coins with them as they travel throughout the year."
The coins are part of a number of efforts to recognize Canada's sesquicentennial in one of the country's oldest communities. Cornwall was settled in 1784, 83 years before confederation.
More information on local Canada 150 events can be found on CornwallTourism.com
Canada 150
Canada 150 is the term used to celebrate the 150th anniversary of Confederation. On July 1, 1867, Ontario, Quebec, Nova Scotia and New Brunswick officially joined together to form the new Dominion of Canada. The rest of the provinces and territories were added over time, Nunavut being the most recent in 1999.
The Canada 150 Logo
The Canada 150 logo is composed of a series of diamonds, or "celebratory gems", arranged in the shape of the iconic maple leaf. The four diamonds at the base represent the four original provinces that formed Confederation in 1867: Ontario, Quebec, New Brunswick and Nova Scotia. Additional diamonds extend out from the base to create nine more points—in total representing the 13 provinces and territories.
The Clock Tower
The Clock Tower is an iconic landmark in Cornwall, situated overlooking the St. Lawrence River in Lamoureux Park. The clock tower is a replica of the original clock tower which dominated the old Post Office building at the corner of Second Street and Pitt Streets. The post office was demolished in 1955 and the original clock was repurposed in the new clock tower built in 1992.
Categorised in: Community