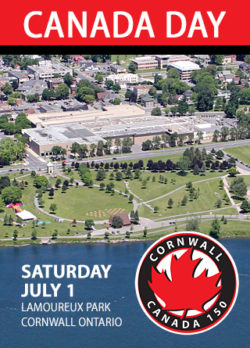 Canada Day Celebrations in Lamoureux Park
June 20, 2017
Cornwall Ontario – Cornwall's Lamoureux Park will be buzzing with music and activities on Saturday, July 1st in celebration of Canada's 150th birthday.
The annual Canada Day celebration will officially kick off at 12 pm and continue through the day, culminating with an 8:30 pm performance by hometown favourite Paul Deslauriers and a spectacular fireworks display at 10 pm.
In between, there will be live entertainment, a petting zoo, inflatable castles, a children's Fun Zone, food vendors and other free activities to keep residents of all ages entertained.
Lamoureux Park will be the stage for the Canada Day celebrations, with live performances taking place at the Lion's Club Bandshell along the St. Lawrence River.
This year's Canada Day celebration holds extra significance as 2017 marks the 150th anniversary of Confederation. Various special events are being held throughout the year to mark the milestone.
Canada Day 2017 Program
Activities
The inflatable bouncy castles open their doors for adventure and fun and you have never seen inflatables this large!
Love animals?  You will certainly want to visit our petting zoo! There will be all kinds of beautiful animals that are sure to interest the kids.
Home Depot will be running a Fun Zone that the kids are sure to enjoy!
Face painting kicks off at 11 am!
1 pm – Little Ray's Reptiles show

Enjoy an exciting and fun display of exotic reptiles from around the world.

2 pm – Pizazz Magic show

This magic show features some illusions never seen before and will be as entertaining for adults as it is for children.

3 pm – Little Ray's Reptiles show

An encore performance showcasing exotic reptiles from around the world.

3 pm – The Great Mascot March

Prizes for the best school mascot or super hero costume! Get out your best costume and dress to impress.

4 pm – Juggler, face paint and other activities
Live Entertainment (Bandshell)
12 pm – Opening ceremonies

Greeting from delegates, youth group performance of the national anthem, introduction of student essay winners

12:30 pm – 1:15 pm – BCDC Dance

BCDC Dance is a progressive dance company that performs contemporary, Hip Hop, Street Jazz, and lyrical, to name a few. They are high energy and always give their audience the very best in dance!

1: 30 pm – 2:15 pm – Jesse Stone

Jesse Stone is a prolific songwriter who puts on an exceptional stage performance. His music is catchy and his vocal delivery is unique. His fearlessness on-stage is due in large part to his huge catalog of diverse popular music. With years of experience and consistent positive crowd reactions, it is no wonder why this young man from Montreal has such a strong following!

2:30 pm – 4 pm – Louis Racine et Les Pourquoi pas

Louis Racine et Les Pourquoi pas are considered one of Canada's top French musical groups. They perform a wide variety of traditional music that appeals to folks of all ages. They are going to be a special treat for this year's celebrations! Not a group to be missed!

4:15 pm – 4:45 pm – Studio C Extravaganza

This colourful, award-winning dance group has a wide variety of styles that cater to all ages! Each time they take the stage people are in awe of their diversity. They take their audience from a night on Broadway to the streets of Hollywood!

5 pm – 5:45 pm – Shelter Valley

For years people have often stated, where are the up and coming bands? Well, here are a couple of young lions that are ready to roar. This young band is just starting out, but when they perform they always leave the crowd wanting more.

6 pm – 7 pm – Flowdroidz

Flowdroidz with BCDC Dance Company have teamed together to give the city a dance and vocal extravaganza that will not be forgotten. This collaboration will ignite the crowd to dance and sing along in this high energy show.

7:15 pm – 8:15 pm – Don Scott Band

A high energy group that performs a little bit of every musical style you can think of. This group of talented musicians give their all with every gig they play. Everyone has a fun time when they are on stage. When they play people always sing and dance!

8:30 pm – 9:50 pm – Paul Deslauriers Band

Paul Deslauriers Band is the classic story of the hometown boy makes good. He was recognized as Canada's top blues guitar player at the Annual Maple Blues Awards ceremony in Toronto and is in such demand that they are booked all over North America. This group is truly on the rise in the music industry and they will be performing everything from their own music to classic Canadian hits from the past.

10 pm – Singing of national anthem and fireworks

Enjoy a beautiful fireworks display to close out the evening!

10:20 pm – Paul Deslauriers Band

The hometown favourite will close out Canada Day 2017 with an encore performance.
For more info on Canada 150 celebrations, please click here.
Categorised in: Community