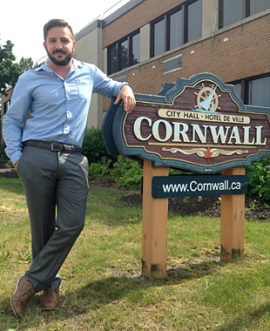 Canada World Youth Bringing 18 Young Volunteers To Cornwall
July 9, 2014
Cornwall Ontario – David Arsenault is on a mission. The program supervisor with Canada Word Youth is in Cornwall this month to prepare for an exchange between Canadian and Vietnamese young adults.
Nine people from Canada will travel to the Phu Tho province in Vietnam where they will be paired with nine Vietnamese. The group will spend the next two months volunteering before they return as a group to Cornwall in late October.
"It is an exchange of culture, ideas and information and very rewarding experience for all involved," says Mr. Arsenault.
Mr. Arsenault is in Cornwall arranging for work placements for the 18 youth volunteers from late October to December.
"These are bright, hard working young adults that are looking to make a difference in the short time they are in Cornwall," says Mr. Arsenault. "Each Canadian is paired with a Vietnamese, and by the time they return to Cornwall they will have developed into an effective team."
Mr. Arsenault is also looking for 9 families that will be willing to billet two program participants while they are in Cornwall.
"It is a very rewarding experience for our host families, who usually end up making lifelong friends with their billets."
Integration into a family and volunteer work with local agencies and organizations are key goals of the program. They provide youth volunteers an opportunity to learn about the region as well as the local lifestyle and culture. Throughout the four month program, participants be looking at issues related to gender and health in partnership with local non-profit organizations in both Vietnam and Canada.
This is the first time that Canada World Youth has run a program in Cornwall. You can learn more by calling Mr. Arsenault at (613) 870-1399 or by visiting his blog:
About Canada World Youth
Since its founding in 1971, Canada World Youth (CWY) has offered international volunteer programs to 37,000 youth who wanted to become informed and active global citizens. Through their participation in community-driven development projects, CWY youth volunteers from Canada and abroad develop leadership skills that allow them to become agents of change.
Learn more at: http://canadaworldyouth.org