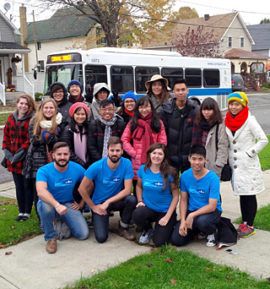 Canada World Youth Group Arrives In Cornwall For Two Months
October 23, 2014
Cornwall Ontario – A group of 18 volunteers from Vietnam and other parts of Canada have arrived in Cornwall for a unique two-month culture and volunteer exchange through the Canada World Youth organization.
Nine people from Canada recently travelled to Vietnam where they were paired with nine Vietnamese for a two-month volunteer placement. The group is now in Cornwall for a similar education and volunteer experience until December 21st.
"It is an exchange of culture, ideas and information and a very rewarding experience for all involved," said David Arsenault, program supervisor with Canada World Youth.
The group arrived on Monday, October 20th, and the volunteers will be staying in pairs with host families and completing work placements with organizations such as Agape Centre, Canadian Cancer Society, United Way, Seaway Valley Community Health Centre and others.
On Tuesday, October 21st, the group received an official welcome to the City from Mayor Bob Kilger followed by a short tour of Cornwall on a Cornwall Transit bus. They got a first-hand view of the City's landmarks, sports facilities, commercial areas and other amenities.
To make it easier for the volunteers to experience life in Cornwall, Canada World Youth partnered with Cornwall Transit to equip each participant with a bus pass for the duration of their stay.
"These are bright, hard working young adults that are looking to make a difference in the short time they are in Cornwall," said Mr. Arsenault.
Integration into a family and volunteer work with local agencies and organizations are key goals of the program. They provide youth volunteers an opportunity to learn about the region as well as the local lifestyle and culture. This is the first time that Canada World Youth has run a program in Cornwall.
About Canada World Youth
Canada World Youth offers international educational programs to young people aged 15 to 35. Since 1971, more than 36,000 people from Canada and around the world have participated in CWY programs and have stayed with 11,000 host families in 69 countries.