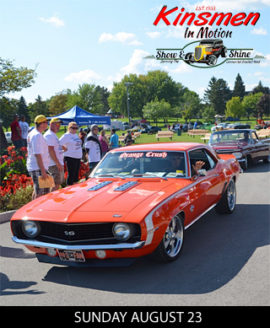 Car Show this Sunday in Lamoureux Park
August 20, 2015
Cornwall Ontario – There will be big fun – and plenty of big wheels – in Lamoureux Park on Sunday, August 23rd as the Kinsmen Club of Cornwall plays host to the 2015 In Motion Show & Shine car show.
The third annual event kicks off at 9 am, and organizers are expecting upwards of 150 different vehicles to be in attendance. Visitors can expect to see a mix of muscle cars, classics, old antiques, imports and more. The show runs until 4 pm and admission is free.
"It's a great day to meet up with old friends and meet new people in the car community," said Kinsmen Club member Jody Archambault, Chair of the In Motion Show & Shine.
Hosting the car show in the picturesque Lamoureux Park on the banks of the St. Lawrence River definitely adds another element to the event.
"Our park is phenomenal and we have such a wonderful waterfront," said Mr. Archambault. "The families and the people that come out to the show enjoy having it here."
In addition to the 100-plus wheeled attractions, there will be food and a Hot Wheels dragstrip to keep the children entertained.
"The kids seem to enjoy it and the adults enjoy it quite a bit too," said Mr. Archambault with a laugh.
In addition to the car show, Mr. Archambault said attendees can also take advantage of the nearby splash pad and play structure for children or the shops and restaurants in the Cornwall Square and Downtown area. Last year, he noted, many showgoers made a point of crossing Water Street and visit the mall or one of the shops or restaurants along Pitt Street.
The ultimate goal, Mr. Archambault added, is to see the show become even larger and to incorporate the Downtown area into the event.
"It's good for the City and it brings visitors to the community," he said. "We hope to see it grow in future years and possibly make it a full weekend-long event."
Proceeds from the event will go to Big Brothers Big Sisters.
For more details on the event, visit www.inmotionshowshine.ca.